Untapped
The New West Texas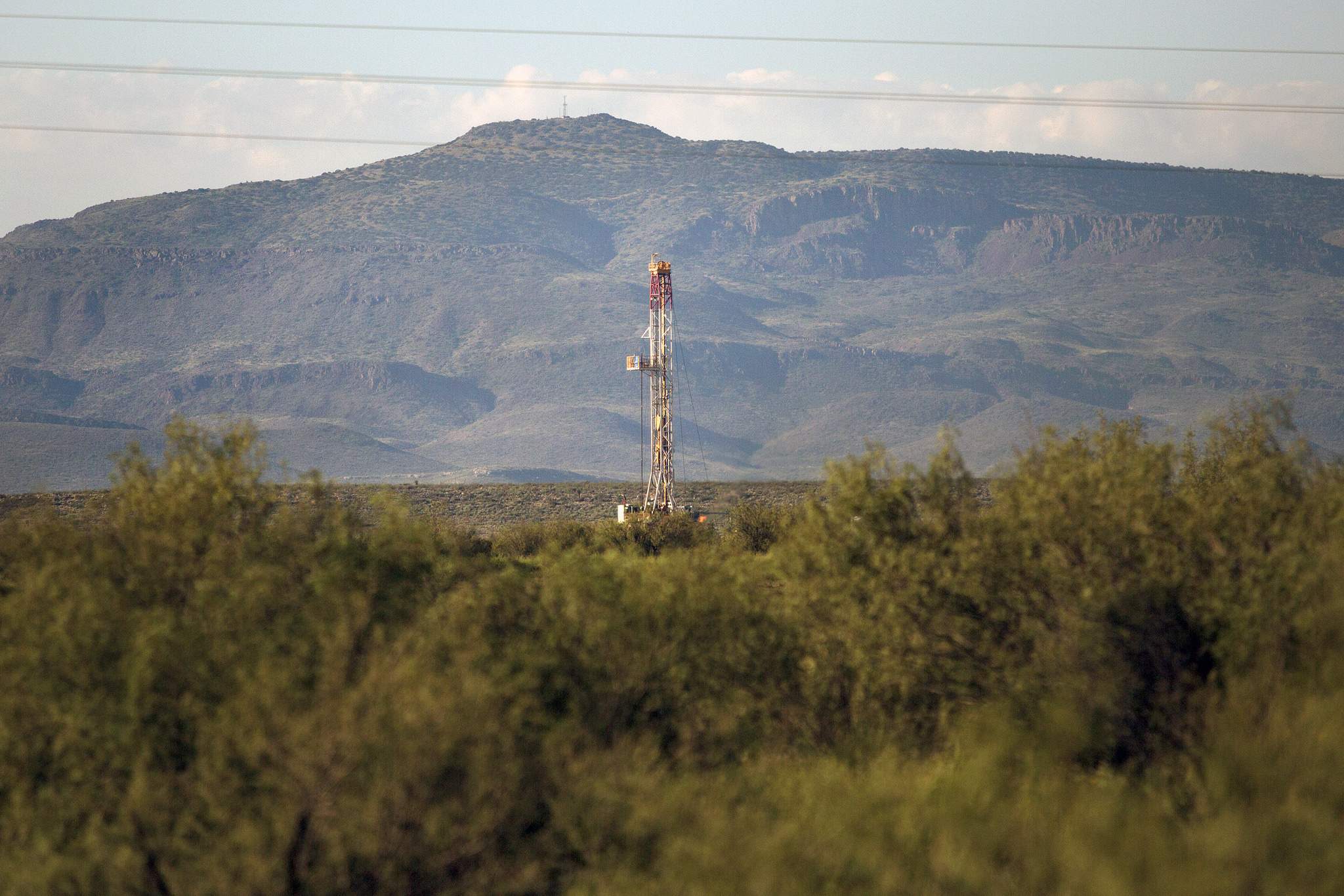 The Permian Basin in west Texas leads the nation in oil and gas production. Midland and Odessa have long been the heart of this industrialized desert. But oil and gas development is expanding outward. In the past year, drilling operations have moved south and west into a region long written off as undevelopable.

That's where we begin a series of reports examining what all this means for the region and the state. Untapped: The New West Texas explores the impact of new energy exploration on the economy, the water table and the environment.
West Texas-based reporter Sally Beauvais begins our story on the edge of Balmorhea Lake in southern Reeves County, about 100 miles from the heart of the Permian Basin oil patch. She says the lake is a popular recreation spot, just across from the foothills of the Davis Mountains.
But things are changing: just across the lake, Houston-based Apache made a major oil discovery a couple of years ago – the evidence is a bald patch where a test oil rig recently stood.

In 2016, Apache said the area could contain up to 3 billion barrels of oil. The company named the new field Alpine High.

"I'm kind of at the edge of where industry is reaching into this corner of west Texas," Beauvais says. "It's an area that producers had written off for decades."

Beauvais says producers have drilled in this corner of far west Texas before, but had never made the big strike.

"Apache just had the stars align, and they found the right geologist to study the area, and they figured out how to get the oil out from under this region," Beauvais says.

Further south, in Big Bend country, Dallas-based Energy Transfer Partners has been developing new oil and gas resources, too. Beauvais says the company has built two natural gas pipelines, the Comanche Trail and Trans-Pecos pipelines.

"The pipelines are really starting to lay the groundwork of what made it possible for companies to frack in these parts of the Permian Basin," Beauvais says "and export that natural gas to Mexico, and to the Mexican coast to be shipped overseas."

Beauvais says the new pipelines come at the best possible time for Apache, which will need a way to move the oil it produces. In addition, eight other companies are exploring the Delaware Basin, where Apache's Alpine High field is located.

Increased energy production will have an environmental impact on the region. Beauvais says increases in fracking in the Permian Basin overall have already stressed the environment.

"The main question for concerned people is," she says "how much of the country's natural resources and wild spaces are we prepared to give away for development?"

Water is a key concern in the region, Beauvais says.

"The pool at Balmorhea State Park is at the front of that picture," she says. "[It's ] the west Texas desert oasis that drives tourism in the area, and the economy. But beyond Balmorhea, there are also larger concerns about unregulated water mining in massive quantities, and fracking operations in other parts of the Permian."

Environmental concerns also extend to the quality of local water tables, safety for wildlife, air quality and light pollution from gas flares.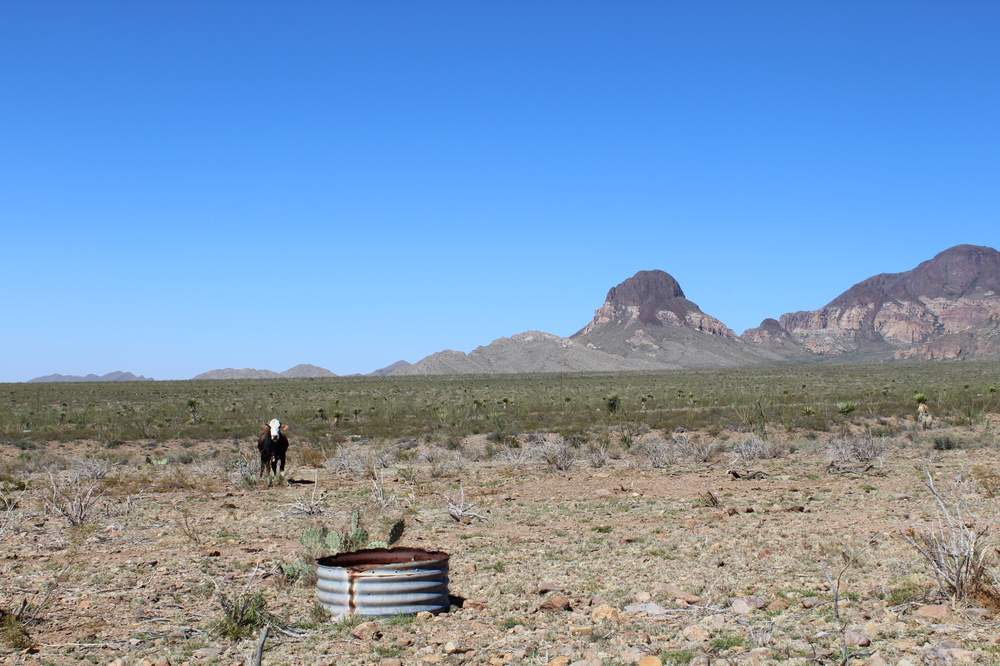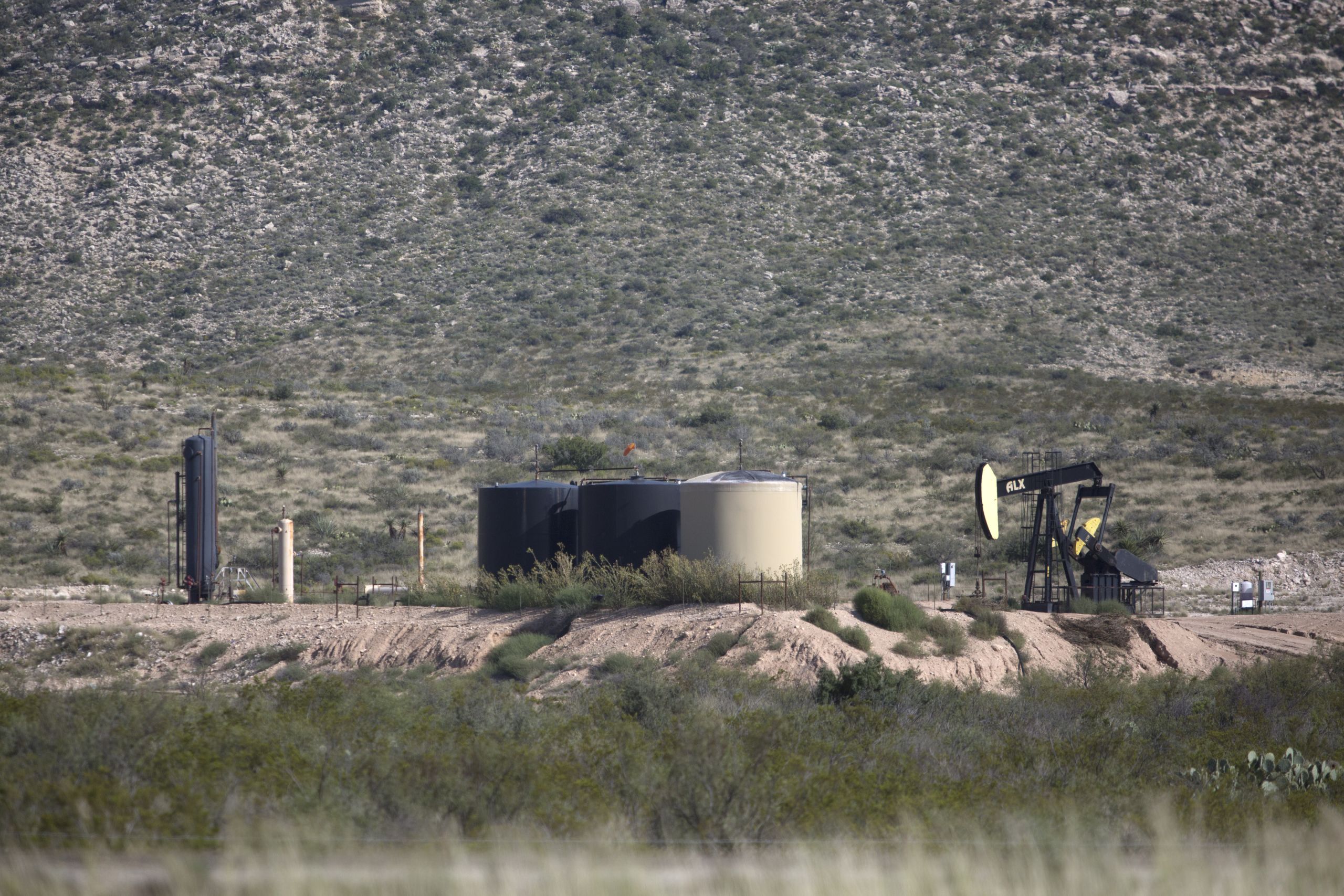 A Tourist Town Reckons With An Energy Boom
By Michael Marks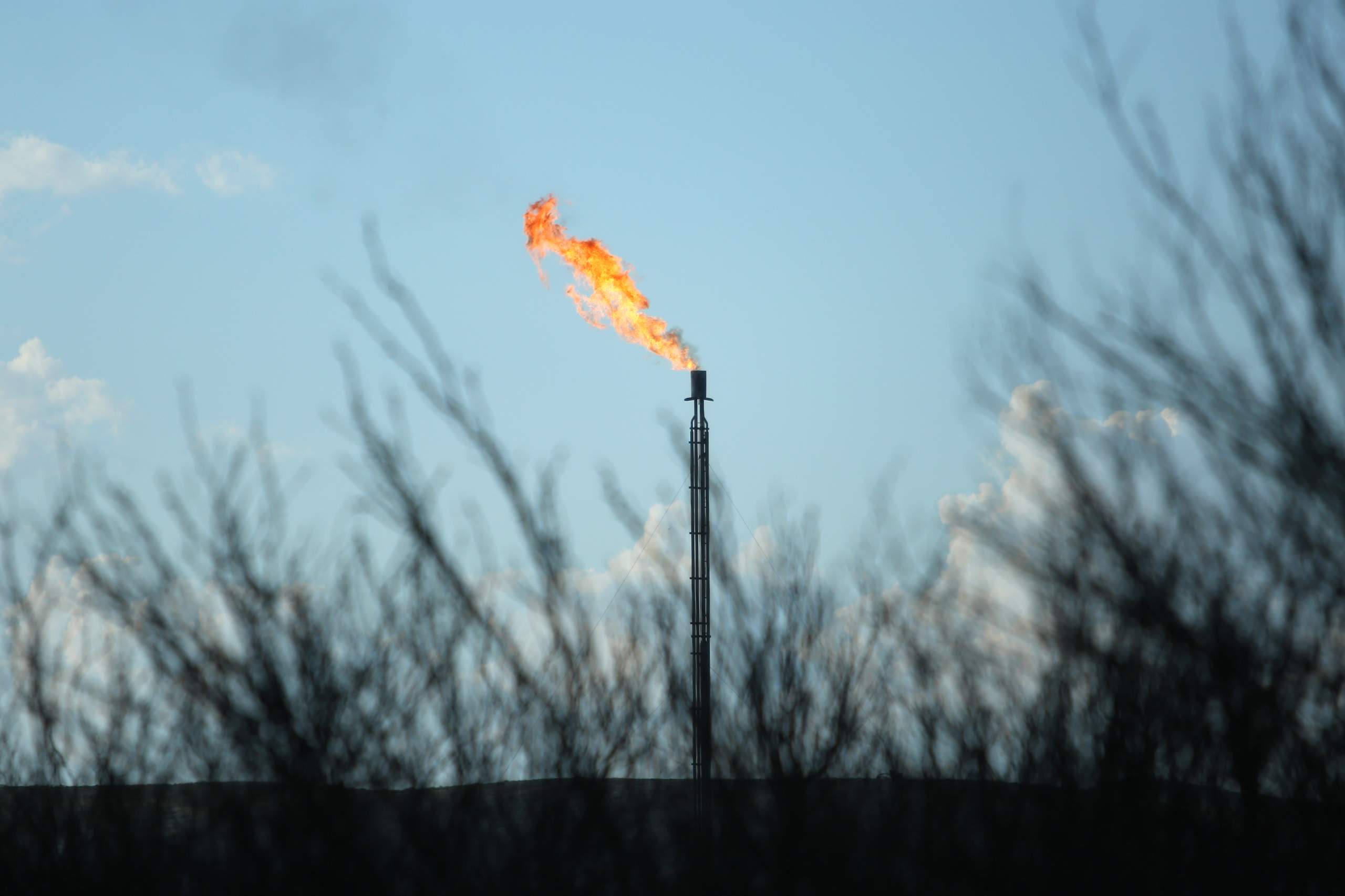 For generations,Texans have visited the desert oasis of San Solomon Springs for recreation, refreshment and rejuvenation. And for almost as long, the springs have powered the economy of the tiny town that sits next to them; Balmorhea. But now, an expanding industry is bringing big change to Balmorhea.
It seems like wherever you could put an RV in Balmorhea these days, there is one. There are RVs in empty fields, back yards, parking lots and next to Pat Brijalba's snow cone stand, where three RVs sit close together. But he says there's still room for one more.

Brijalba is the head of the local economic development corporation. The people who stay in the RVs – not just his, but all the RVs in Balmorhea – are there to work in the Alpine High. That's the new oil and gas field in the Delaware Basin, the southwestern portion of the Permian Basin, where activity has ramped up big time in the last year. That hasmeant a shift and an expansion of Balmorhea's economy, which Brijalba said has been a good thing.

"The only bad side would be if they were to contaminate our spring water. If that contaminates, that'll kill this town," Brijalba says.

And that's this town's worst case scenario. Brijalba is talking about chemicals from hydraulic fracturing, better known as fracking, contaminating the famous springs in Balmorhea State Park.

There weren't any swimmers the day I went there, which happened to be in the off-season and on an unseasonably cold day. But at other times, the park is so popular that it has had to cap attendance at 1,300 people per day.

"It's a very unique and very beautiful place," says Carolyn Rose, the park's superintendent.

With views of the Davis Mountains to the west, the pool that the springs creates is quite an attraction. And for a long time, it was the only reason to come to Balmorhea. But the geologic systems that create the springs are fragile, and some find reports of groundwater contamination near fracking operations elsewhere worrisome. There's also a concern about how much water fracking demands, and drawing down the aquifer.

Castlen Kennedy is the vice president of public affairs for Apache, the oil and gas company that began the drilling boom near here. She understands why people feel that way.

"Well I think there's very little risk but I also think it's a reasonable concern as somebody who lives there in the community," Kennedy says "somebody who has a family or who has children and who may not be familiar with the process."

Part of that process, she says, is being judicious about drilling locations. Apache won't drill under the park or Balmorhea itself, even though Kennedy admits the nearby drilling activity could grow for decades. So her company will have a lot to say about how it affects the local economy.

"Apache's the primary leaseholder in this area so that makes this a little bit easier for Apache to manage and think about from a long-term perspective," Kennedy says.

So far, the industry has boosted businesses that once relied exclusively on the springs. People like Lou Weinacht say it's created opportunities that never existed before.

"This has been great for almost everybody out here who has a business," Weinacht says. "Because you meet new people. You have something to do. You're not sitting around twiddling your thumbs waiting for the next holiday to come around."

Weinacht's RV park used to have only 20 spaces, but recently expanded to 47. There's still a waiting list, so now she's building another park, closer to the springs. New businesses here are thriving, like a tow service and a sand and gravel vendor. The city is collecting more sales taxes, and restaurants and hotels are full. But all this activity has its own downsides.

"If you don't have a business, you gotta to deal with it," Weinacht says. "The traffic, the getting to work, getting back home…"

And then there are flares from nearby rigs, brightening skies that are among the darkest in North America, and 18-wheelers tearing up county roads. The Texas Department of Parks and Wildlife is tracking water quality and the populations of animals in and around the springs. The idea is to collect baseline data on what healthy springs look like so they can sound the alarm on anything unusual, and to understand how the aquifer below feeds the springs.

"I will say that there is concern. We do really hope that the oil and gas companies, that they use the best practices in all of their work," says park superintendent Rose.

Canals deliver water from the park through the middle of Balmorhea to a lake just outside of town, which farmers use to irrigate crops like cotton and alfalfa. The water flows right past the Cactus Motel, where I stayed while I was in town. Locals hope that all the oil and gas activity will bolster the tourism economy here, an economy that depends on an uncontaminated San Solomon Springs.

"If that doesn't happen it will be a positive," says Pat Brijalba, who rents RVs. "Because once the oil field leaves west we'll have the swimming pool and the tourists."

…Provided that there's still a clean pool to bring folks to town.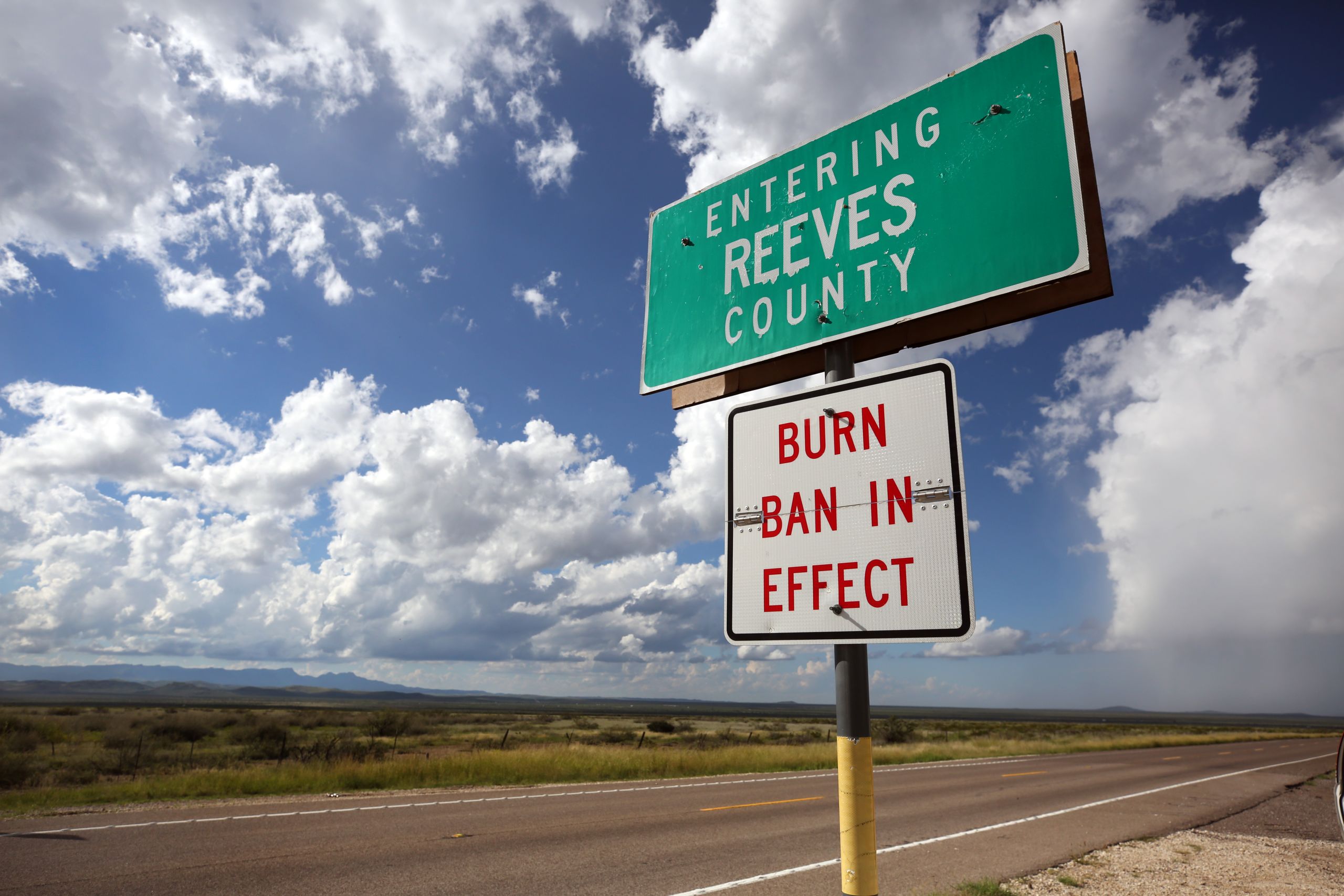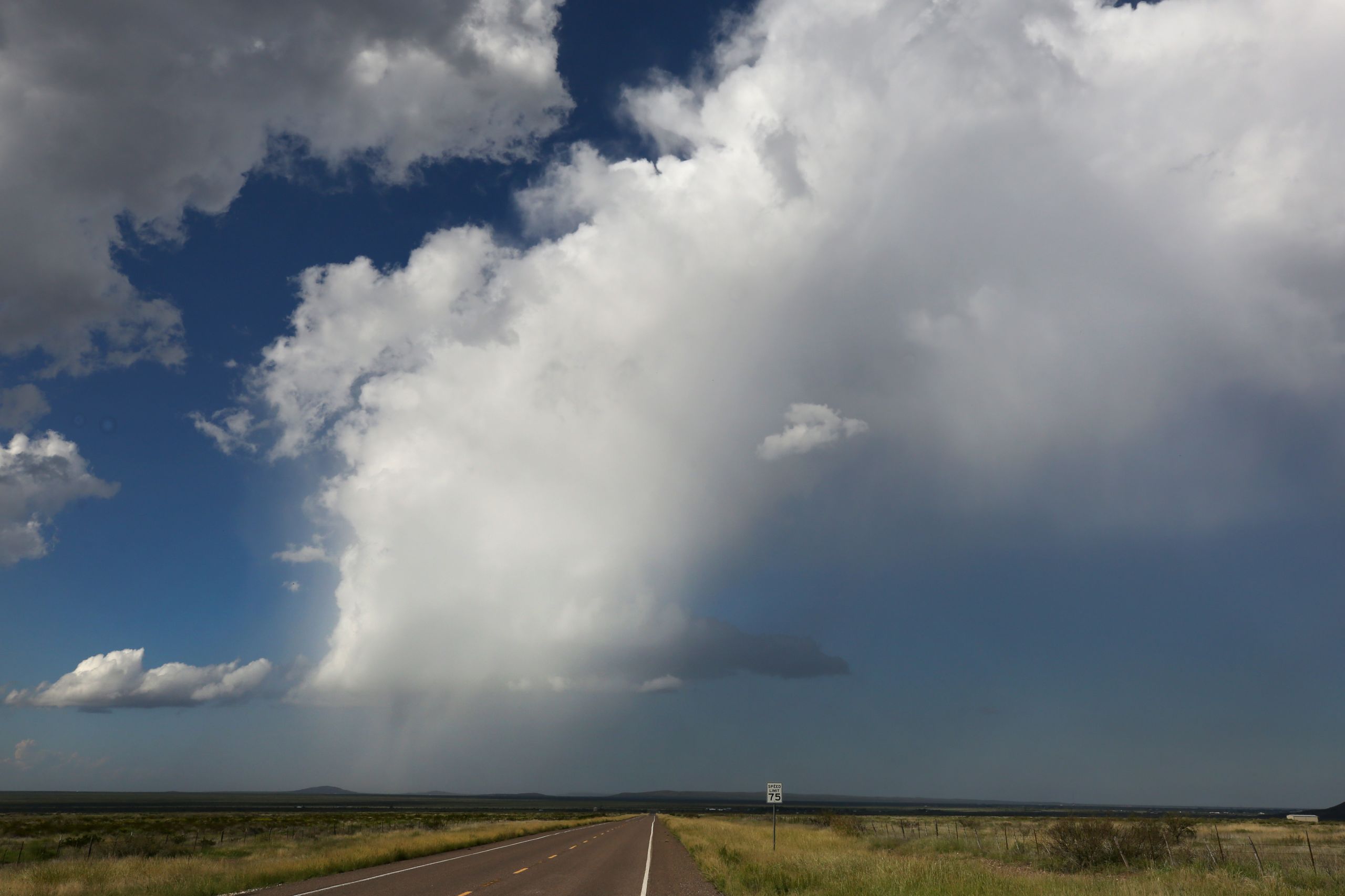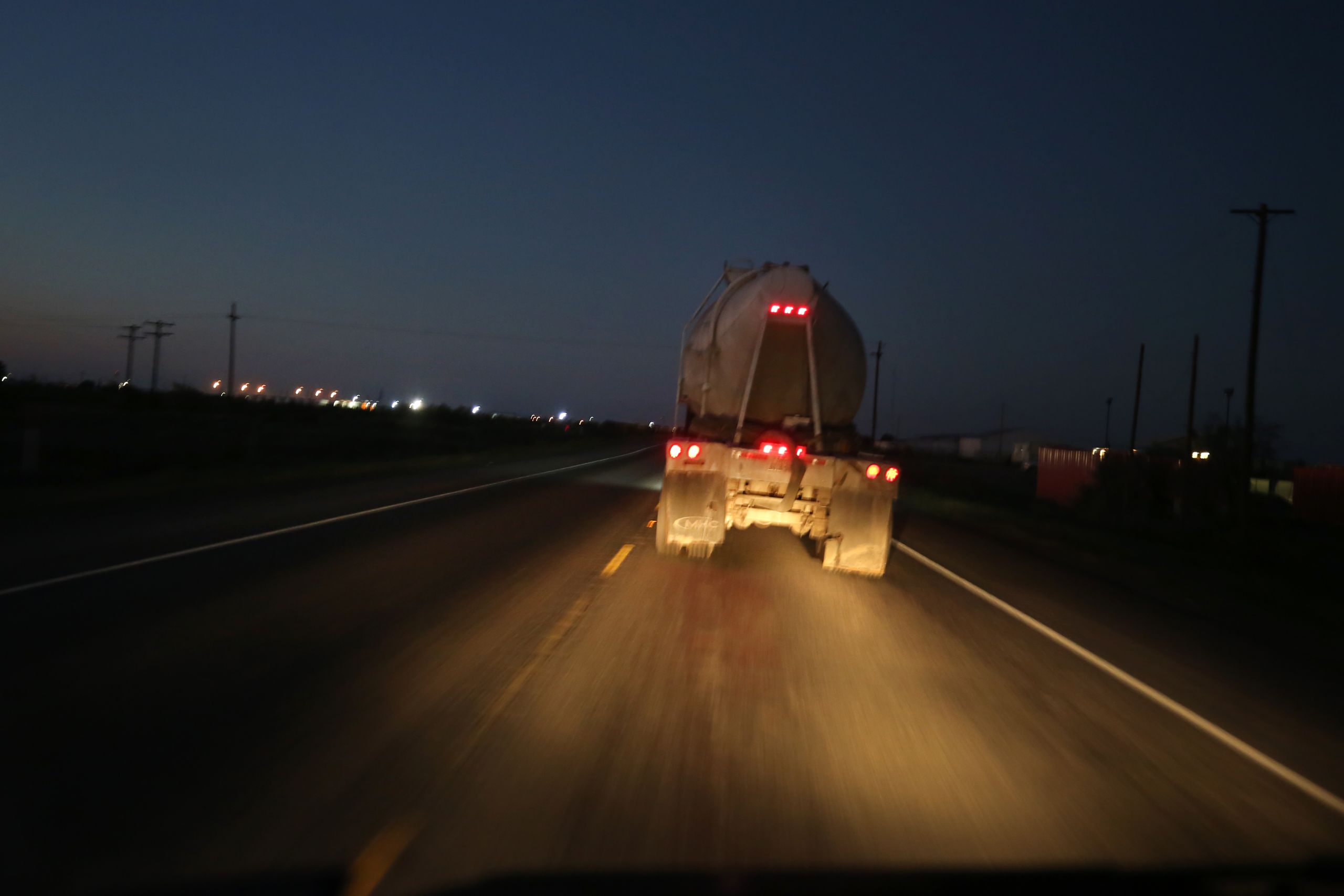 Despite A Downturn, West Texas Oil Production Heads For A Record High

By Travis Bubenik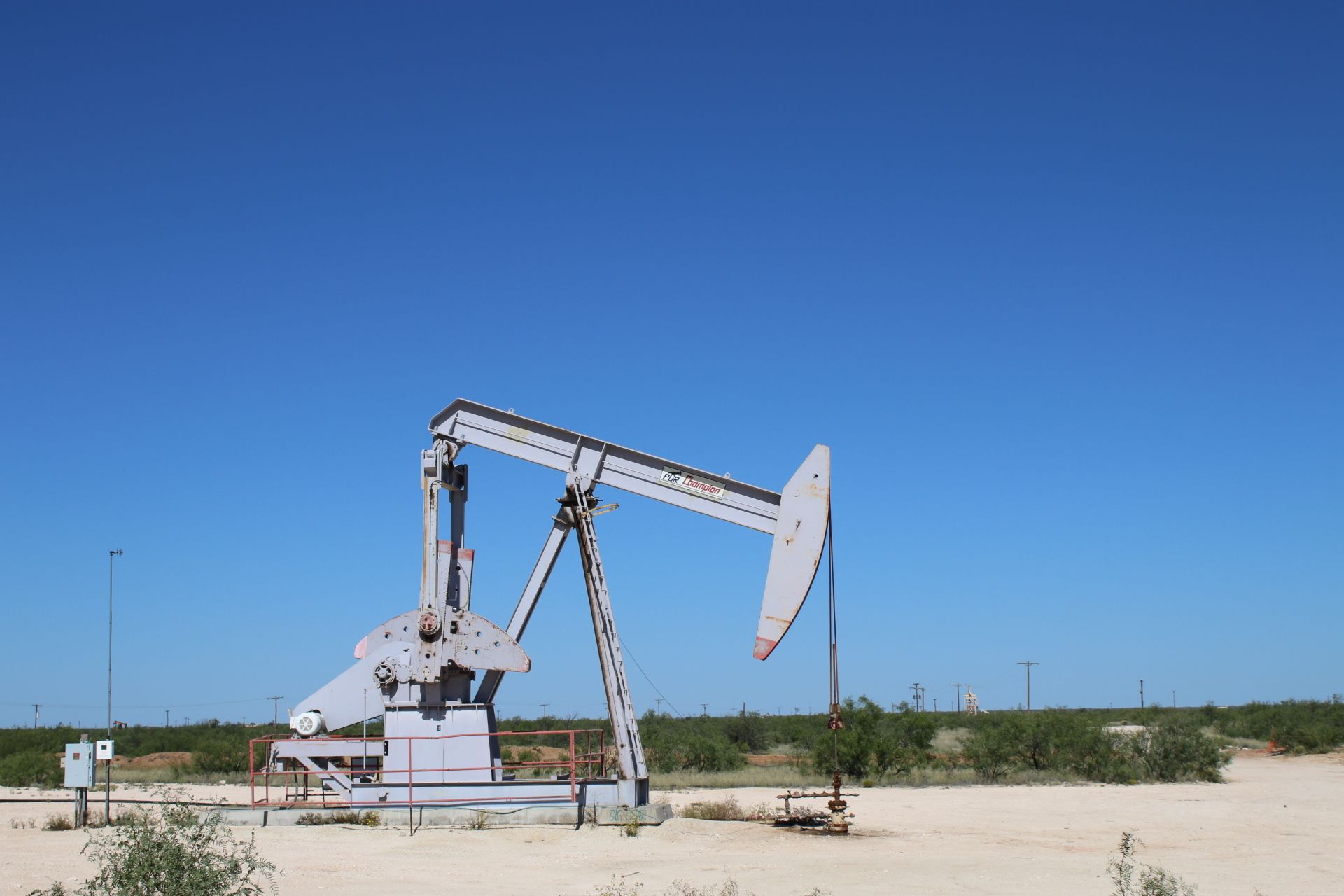 It was almost three years ago when the oil industry took a nosedive.

The headlines told stories of lost jobs and struggling towns, but now, despite the continued downturn, things seem better. At least in the Permian Basin of west Texas.
There's a sound common to much of the region: the slow, steady creak of a pumpjack. It's a seemingly mundane, yet tangible, sign that the state's oil economy is humming along. With oil prices stabilizing, the Energy Information Administration expects oil pumped from west Texas to lead the way to record-high production next year, passing a peak set back in 1970.

You can see the story of the Permian off a lonely highway: within just a few hundred yards of each other, three drilling rigs out looking for oil and gas, despite prices hovering around $50 per barrel – not exactly a number to get excited about.

In recent months, big players like ExxonMobil have made new, major investments in the region. The industry is expanding into previously unattractive areas near the Davis Mountains, in the Delaware Basin. Oklahoma-based ONEOK just announced plans for a new pipeline, and ExxonMobil has bought an oil transport terminal in what the company calls this "rapidly growing" area.

Perhaps the most notable example of the industry's physical expansion is a controversial natural gas pipeline that, despite protests from many locals, now snakes through previously-untouched parts of the West Texas borderlands.

Researchers with the global firm IHS Markit even have a new term for the Permian.

"The Permian has been dubbed, by their definition, as a 'superbasin,'" says John Roberts, the firm's director of global subsurface content operations.

In September, Roberts and his team finished the first of a three-part project to find out just how much oil west Texas still holds.

"Even though it's a 'superbasin' and has made over 38 billion barrels of oil since it was discovered 95 years ago, there is almost twice that to still make with horizontal drilling and with advanced [hydraulic fracturing] technology," Roberts said.

It's a game companies are now better at playing.

Even with low oil prices, they're making money. Not all of the oil IHS has identified makes economic sense to drill for right now, but Roberts said companies are looking at those long-term prospects through a "new lens."

University of Texas researcher Eric van Oort is helping to develop that lens.

"We're actually positioning ourselves for this new reality of forever lower," van Oort said during a recent tour of his humble-looking, two room "drilling lab" tucked away in a quiet corner of the university.

It looks typical enough - a few computers, a whiteboard, grey walls - but the main attraction is a life-size simulator of a drilling rig chair, complete with all the dials and knobs you would see on the real thing. Here, van Oort said, he's working on ways to automate the drilling process. He says the lab's goal is to cut the time it takes to finish a well - and the number of workers at a rig site - by half.

"I think what we're actually seeing is a real change in the industry, where performance optimization and automation are kind of lasting themes," van Oort says. "It's going to be the new way of working."

In some ways, it already is. A study this year from Louisiana State University found that advances in drilling techniques have led to a "breakeven price" - the price at which a well isn't losing any money - of just $39 per barrel in the Permian.

Local businesses like Sharon Ifera's are feeling the impact.

"Within the last few months it's picked up," Ifera says inside her shop in Crane, Texas, population about 4,000. The shop makes huge canvasses to winterize drilling rigs. (If the rigs freeze up, of course, they can't drill.)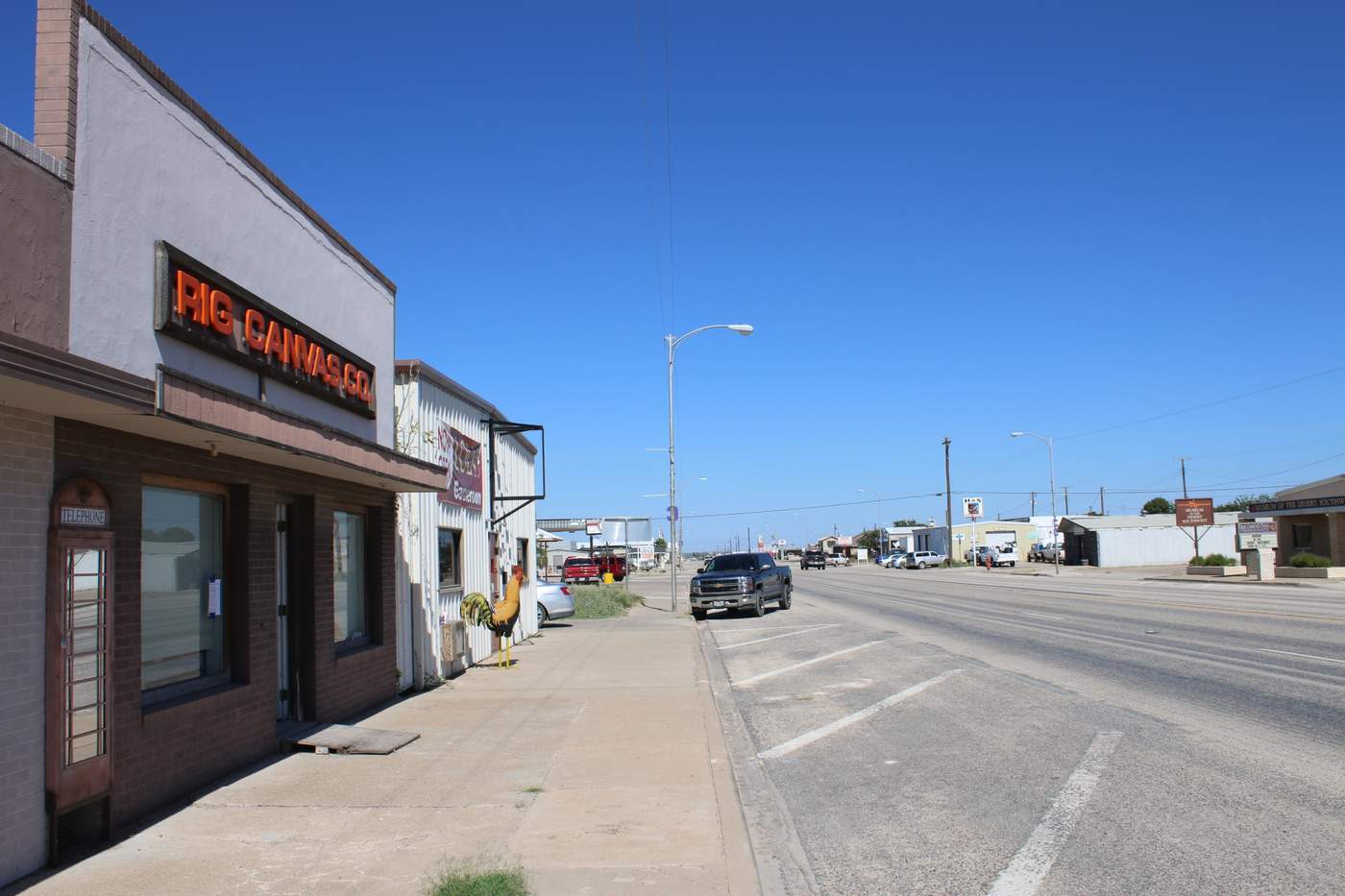 Ifera has been through downturns before, including the big one in the 1980's.

"There was a whole year I did nothing. This time, for two years, I have done some at least, but now it has picked up tremendously," she says.

Ifera says it's the recent steadiness of the oil price that is keeping her business afloat. Meanwhile, new business ventures that might have been unimaginable before are gaining speed. Apache Corporation recently upped its expectations for its big new oilfield, from 3,000 new wells to 5,000. And they're not the only ones feeling ambitious.

Off a highway and over a cattle guard, in an empty patch of desert near Fort Stockton, Texas, I meet Jack Hanks, CEO of MMEX Resources Corporation.

"We thought, well let's go to the source of the crude oil and put a refinery here," Hanks explains about his latest business venture. "And then let's find a way to market the products either by railroad, or pipeline, or trucking."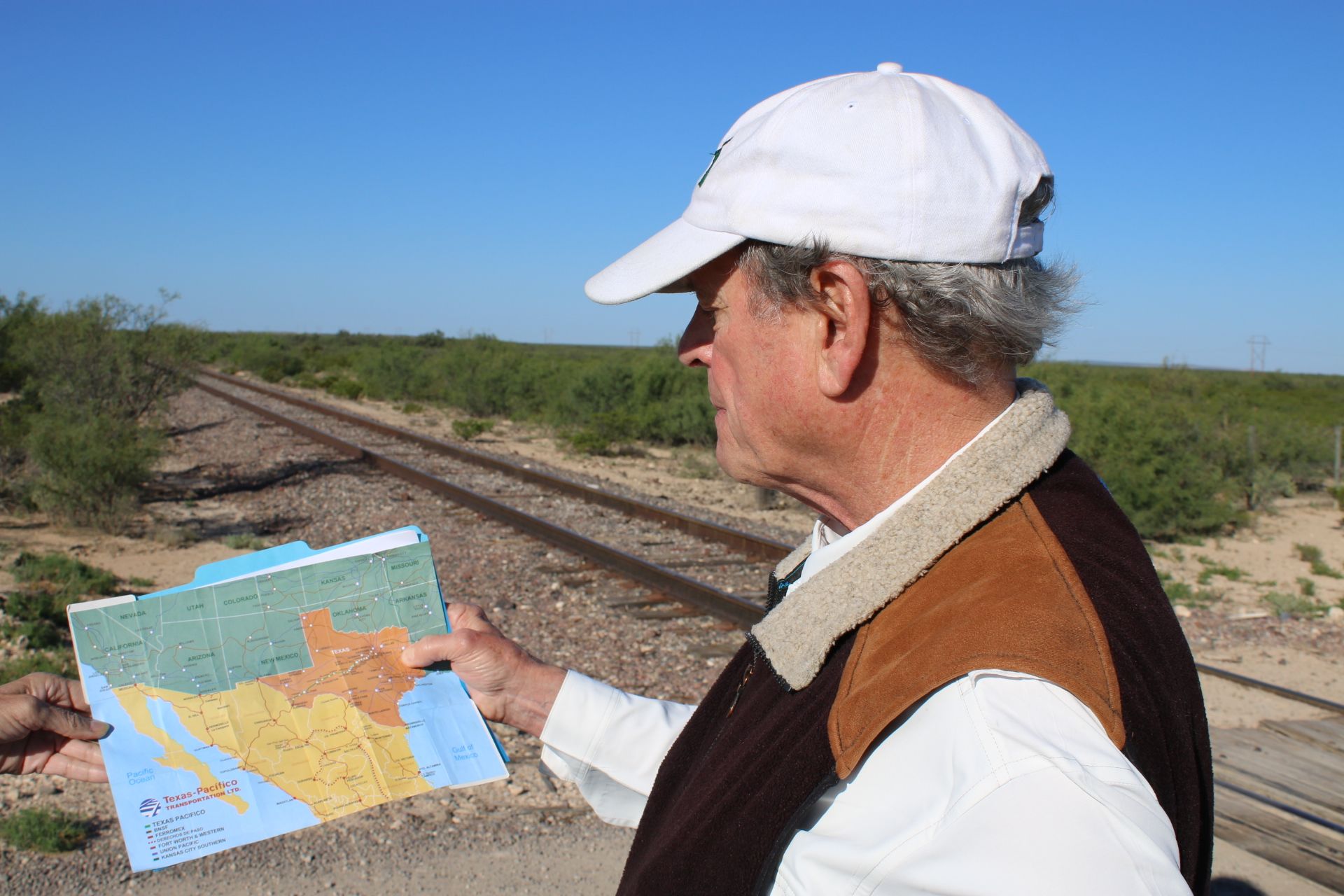 If built, it would be the first new refinery in the United States in decades. Hanks wants to use it to send oil and gas products to Mexico down an old rail line, though some doubt the company actually has the financing in place to make it happen.

And that's the thing about the energy business. There are always ideas, projections, and a dream of the future, but sometimes the dreams overshoot. The optimism on display in the Permian is being tempered by reports of a growing labor shortage, a lack of pipeline infrastructure to move the growing supplies of oil and gas, and concerns about the industry's environmental impact.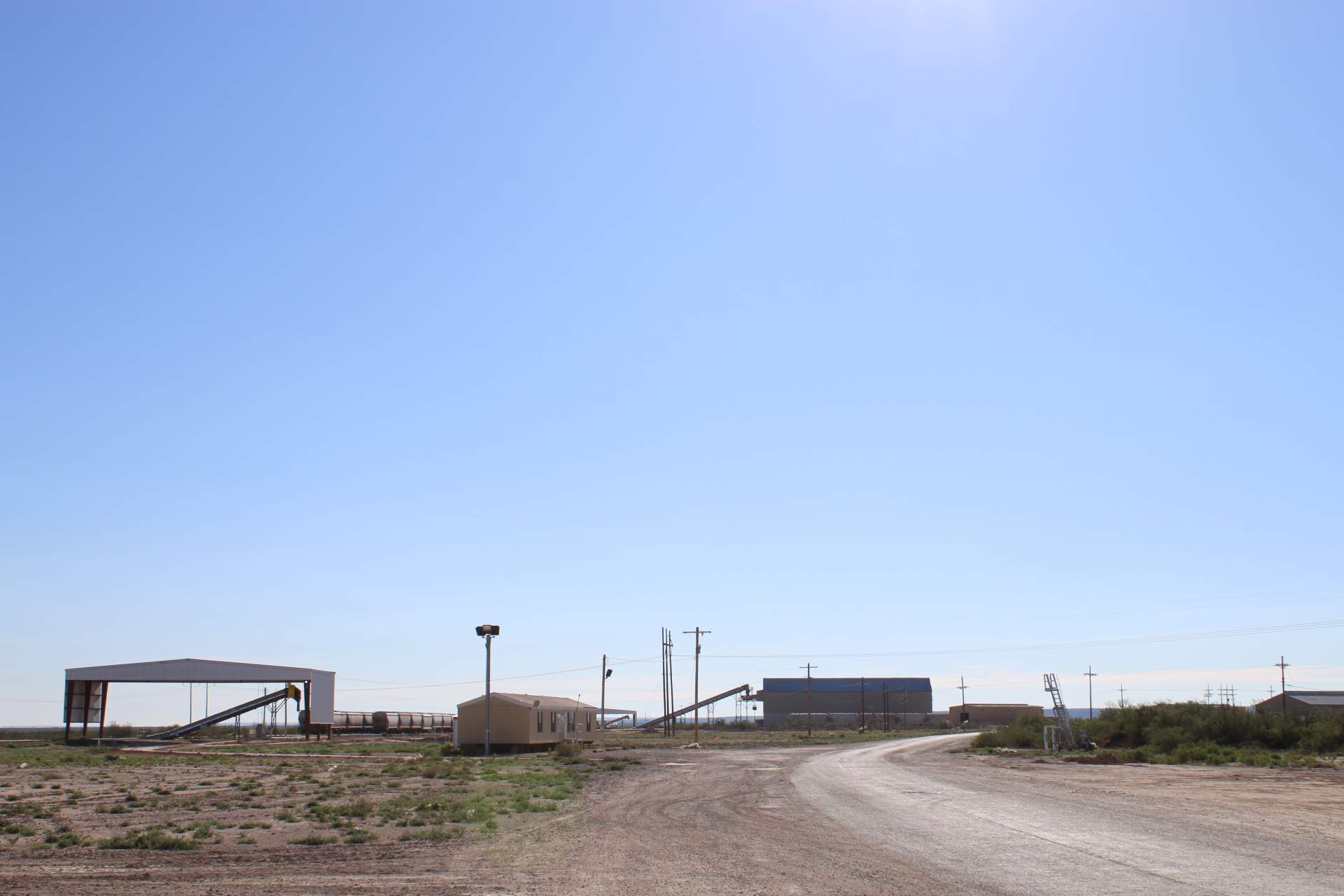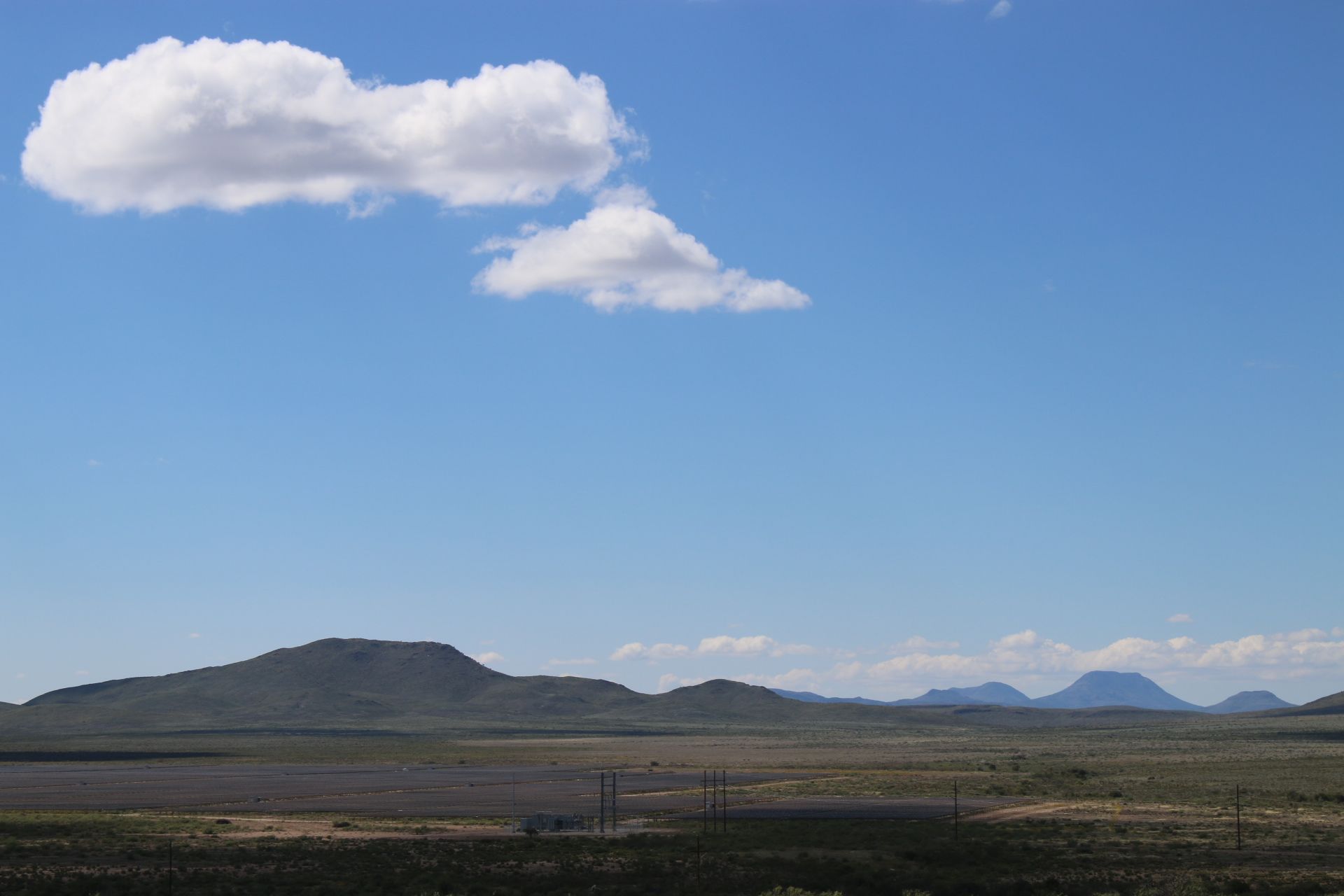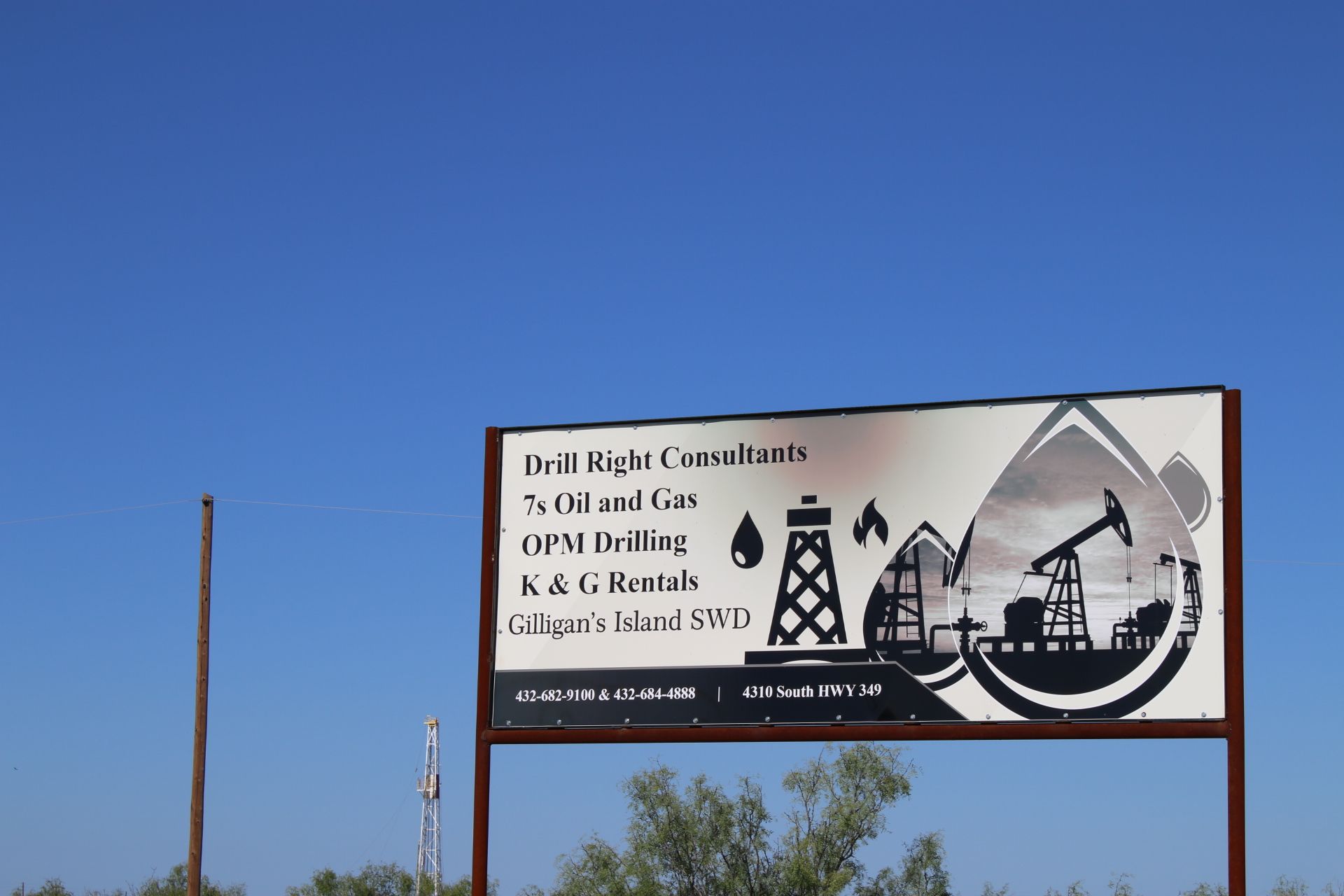 New Demand, Same Old Story: West Texas And Water

By Sally Beauvais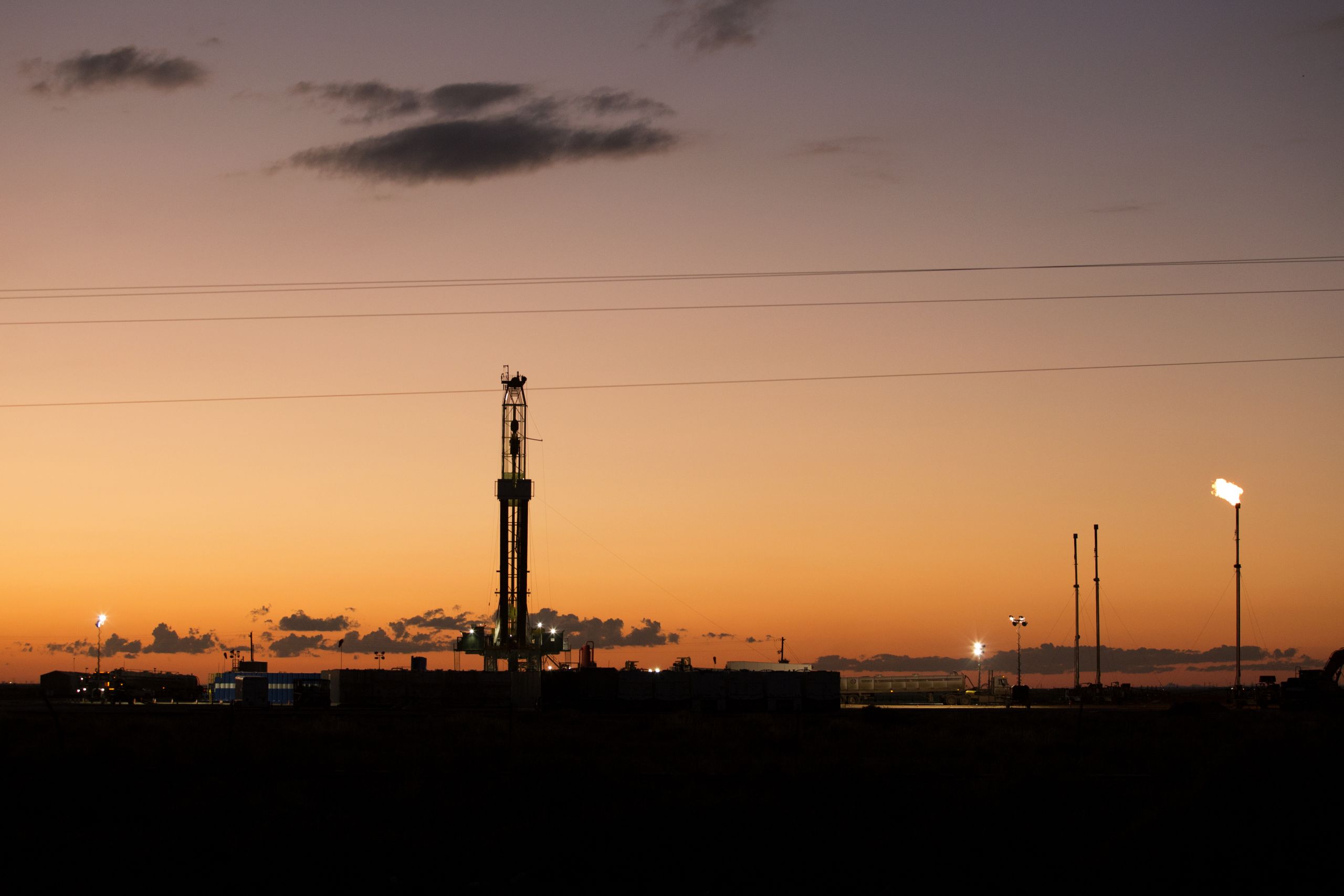 In arid west Texas, where rain is infrequent and rivers and lakes are few, groundwater – water from sources beneath the surface of the earth – is key to survival. And as the oil and gas industry in the Permian Basin demands more of this resource from the surrounding area, researchers are scrambling to study the systems of webbed aquifers that feed households, farms, ranches and industry in the region.

But for residents there's a familiar tension, over who gets to decide the fate of their water.
Jeff Williams manages his family's 18,000-acre farm outside Fort Stockton. Their land sits on top of five different prolific aquifers on the southeastern edge of the Permian Basin. Standing by an irrigation ditch, shooting water to a fish pond, he acknowledges that his family isn't the most popular in the neighborhood. They're the biggest consumers of water in Pecos County. His grandfather, Clayton Williams Sr., is notorious for pumping nearby Comanche Springs dry in the '50s.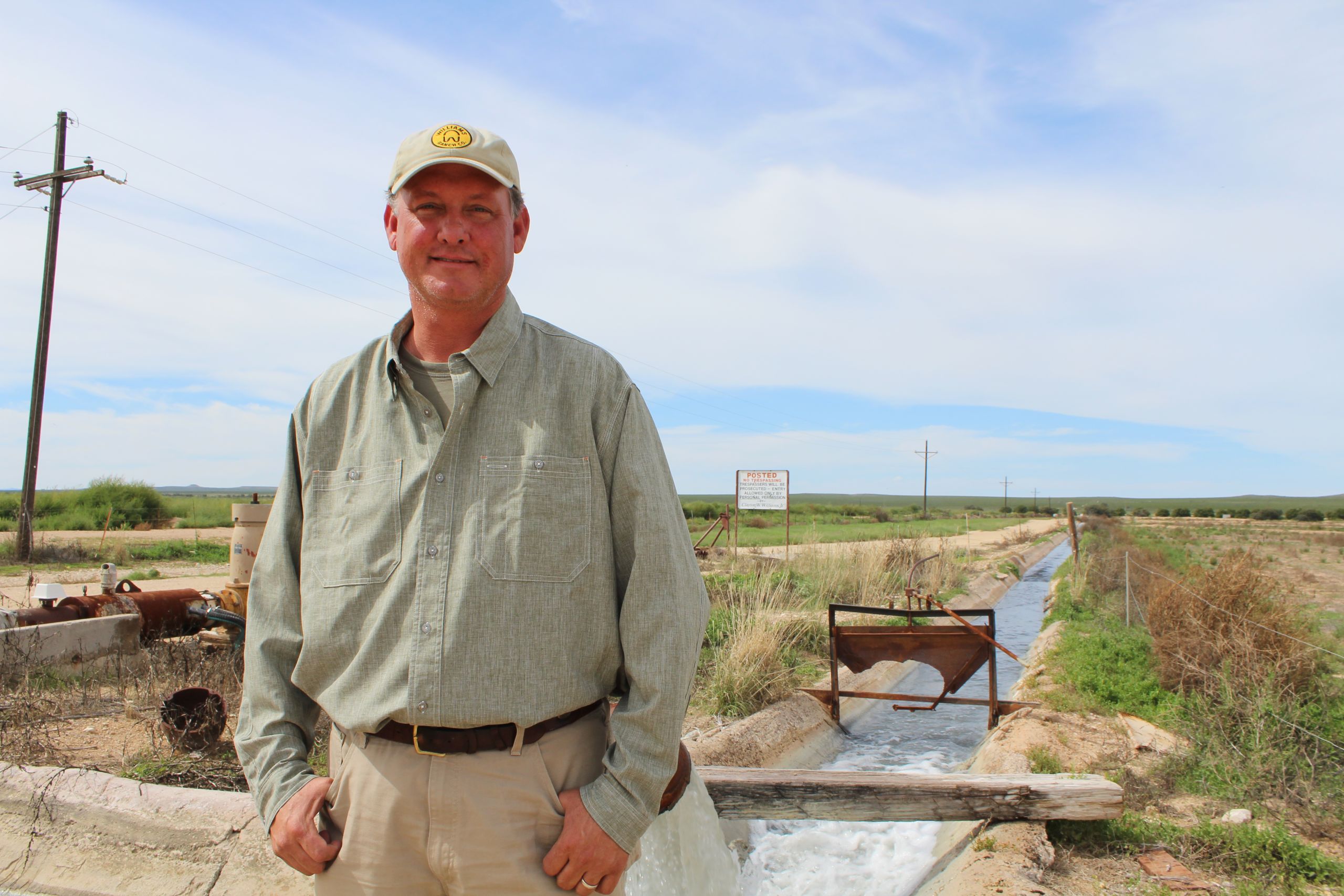 It used to be a West Texas oasis, like nearby Balmorhea. Once it dried up, a new pool filled with chlorinated water was built on top of the town's old spring-fed pool.

Farmers downstream of the springs filed a lawsuit against Clayton Williams and 25 of his neighbors to stop the pumping. But in 1954, they lost the case. In Texas, according to the long-standing rule of capture, the water beneath your land is yours to do with as you please.

"If you're property owner in Texas, you hold that right very near and dear to your heart," Williams says. "That goes up there with god, country, family, and your property."

Just last summer, after another drawn-out legal battle, Jeff Williams and his father secured a controversial permit to pump and export up to 25 million gallons of water a day. Eventually that water may go to the city of Odessa but for now, they're selling to an oil and gas company in the Permian Basin.

For Williams, it boils down to a question that many Texans are asking: What is the highest and best use? Should the water that sits under the state of Texas be reserved for farms and ranches, for drinking water supply, or for oil and gas development? Williams doesn't see a problem with using it for everything.

"Everyone's going to draw their own conclusion and they probably already have. But for me, I see a positive in all of it," he says.

But is there enough water to go around?

As hydraulic fracturing operations ramp up in the Permian Basin and demand more, at least three water drilling companies have staked new territory in the Trans-Pecos – the mountainous desert region on the outskirts of oil country. Located in the Davis Mountains, Van Horn and Pecos, the water drillers report that they are turning away from freshwater, long favored in the fracking process. Instead, they're gearing up to pump industrial quantities of brackish groundwater to sell to oil and gas companies. That's water with dissolved solids in it. It's saline, but not as salty as seawater.

Andrea Croskrey, a researcher with the Texas Water Development Board, maps sources of brackish groundwater across the state. She says that brackish groundwater became of special interest to TWDB during the 2011 drought. And as the population grows, it's a resource that's going to be important for all kinds of uses. But we need more data before we can regulate it properly.

According to Croskrey, one way to access that data is to monitor conditions as new parts of our aquifers are pumped.

"There's a chicken and egg scenario when it comes to: we need to do science, but we need science to understand and make decisions," she says. "Do we drill, or do we wait for science to drill?"

And as demand increases, a lot of questions remain about using brackish water. Like how much do we have and how does it get replenished? And how could pumping it affect our supply of freshwater?

"I mean really it's all about ensuring that there's water for future Texans," Croskrey says.

That's Dr. Andrew Sansom's concern as well. He's with the Meadows Center for Water and the Environment. In west Texas, he says, the situation is more fragile than in the wetter parts of the state.

"Texas has about 60 inches of rainfall on the Louisiana border, and less than 12 in El Paso," says Sansom. "It's natural that concern for water increases as you go westward. That will always be true."

Brackish water is central to everyday operations for some ranchers and farmers in west Texas, especially those tapping aquifers that yield an abundance of slightly saline water. Some communities are already cleaning up it up for use in their municipal water supply. Sansom says it's cheaper and more efficient than desalinating say, gulf seawater.

"And that's why quite honestly on the supply side, brackish groundwater is probably the brightest opportunity that we have," he says.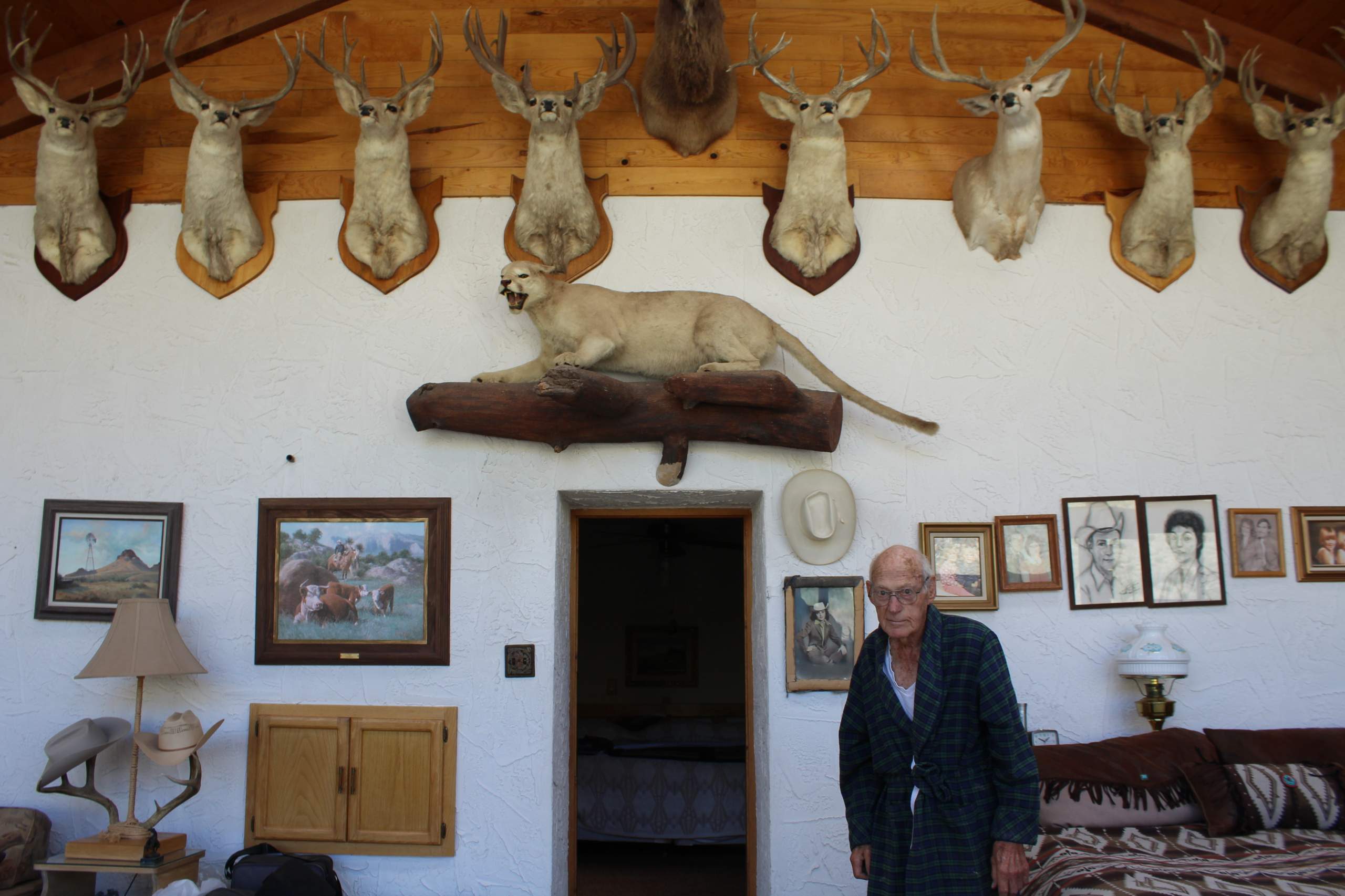 Some longtime west Texas residents are getting nervous about their local sources of water. Hudspeth County Attorney Kit Bramblett opposes the new water drilling operations, especially the one just permitted not far from his ranch.

"I've ranched and farmed all my life," says Bramblett. "Water has been very critical to me."

His ranch is studded with mountains and ocotillo cactus, nestled up to the U.S.-Mexico border and far from the drilling rigs and industrial traffic of the Permian. Bramblett is 86 years old. He went to college with Clayton Williams Jr., and he remembers when Comanche Springs dried up in the early 1950s. He says that at some point, we'll have to stop people from pumping water for certain uses. Because if nothing else, there'll be legal hell to pay.

"If you go to El Paso and go down to the courthouse and see what the most suits that are filed are, you know what they are? They're divorces," offers Bramblett. "You go to Odessa and Midland, that ain't the way it is. The most suits filed there are people suing oil companies over polluting the water."

Water use in fracking operations has reportedly risen six-fold in the Permian Basin since 2011, from five billion gallons to 30 billion gallons per year in 2017. Some oil and gas companies are working on ways to reuse and recycle the water used for fracking (including Apache, the Houston-based company drilling in the areas surrounding Balmorhea State Park). Still, energy research firm IHS Market predicts that demand will double again by the end of this year.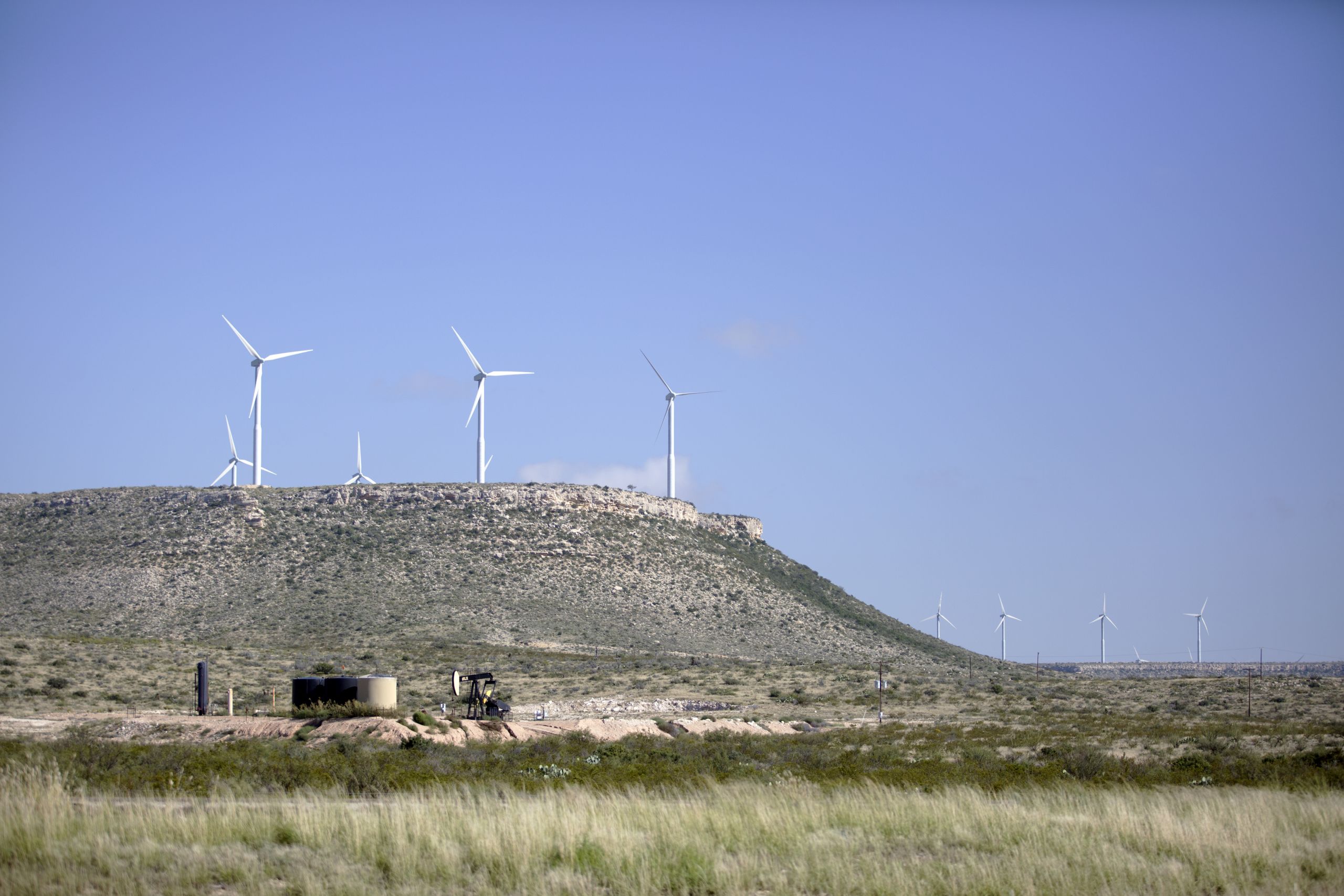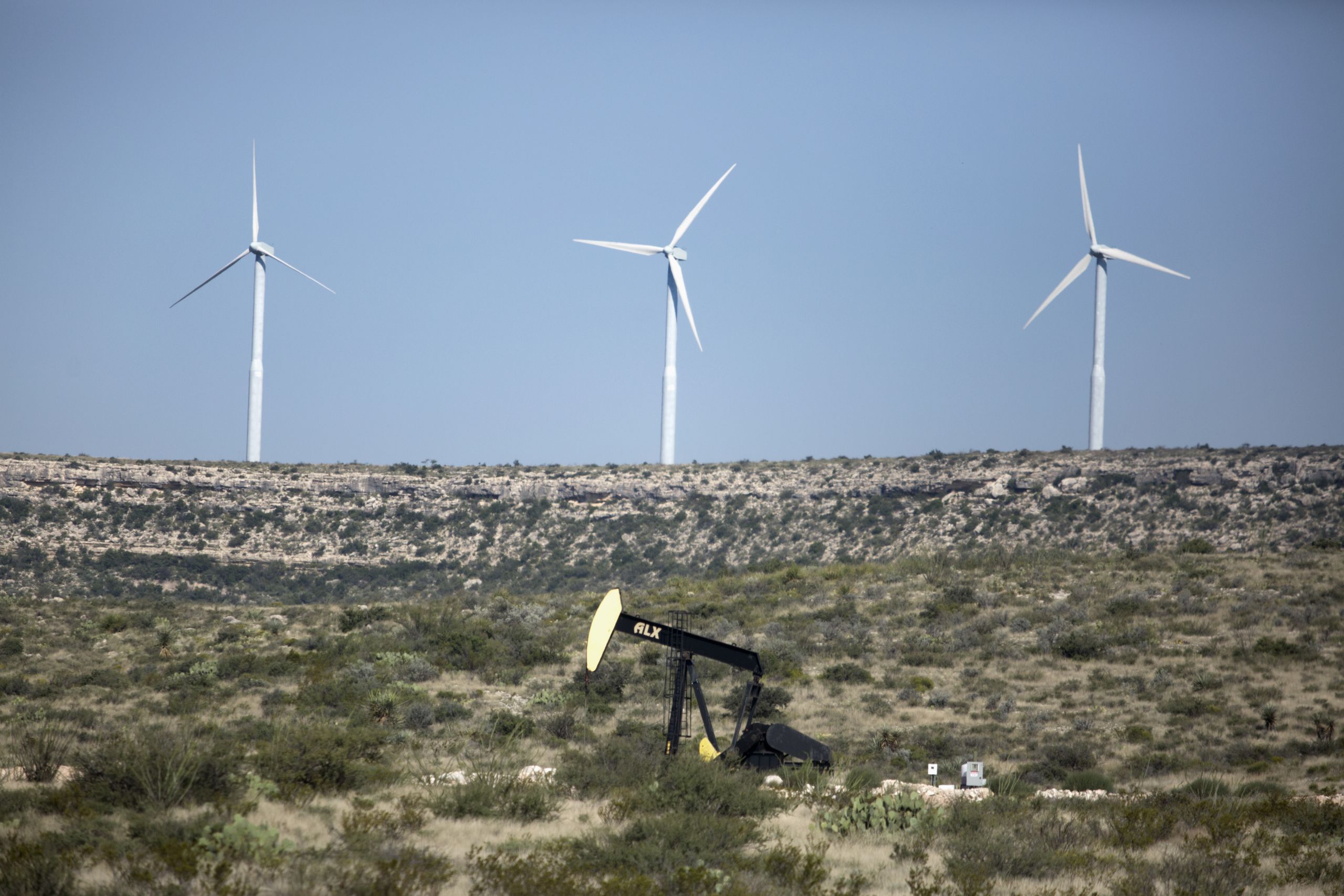 What Midland's Growing Pains Mean For Families Settling In The Permian Basin
Home buyers are finding their choices limited, and prices on the rise.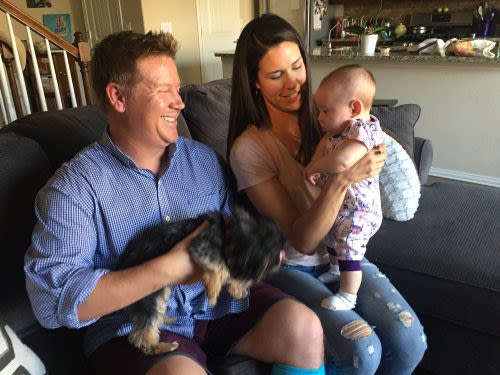 Originally published by Marfa Public Radio on October 4, 2018
By Diana Nguyen
In the early twentieth century, oil and gas companies began building housing for their workers and their families. The housing – often in remote stretches of Texas – had many of the amenities a family could want.
But for some moving to the country's oil and gas hub today, things can be a little more complicated. A tight housing market and stretched resources are testing the likelihood of families settling in Midland.
Finding a house to buy in Midland can be tricky. But Maggie and Gage Nelson lucked out and found one last year for $297,000.
Their two-story, 2,600-square-foot home is known as the 'legacy edition,' its located in a new development on the outer edges of Midland.
"It's probably like any new build community for the middle class in America," says Gage Nelson, who's sitting at his dining table with his wife Maggie and their 8-month-old daughter, Abby.
The young family found themselves in the middle of the Permian Basin in an unconventional way. Maggie was an art teacher for several years, while Gage had aspirations of pursuing musical theatre. But Gage was eventually attracted to the career opportunities the oil and gas industry was offering. So, they made the plunge and both got jobs at Shell.
Last year, they found a home in Midland, but it's not exactly what they hoped — even with a $330,000 budget.
"We feel it's a pretty good budget," says Gage. "I mean, it's our first home and we weren't even like in the ballpark for some of the neighborhoods we would we want to be in."
The Nelsons were hoping to find something quaint, maybe historic, near a good school district that Abby could eventually attend. But they couldn't find anything like that within their budget. In Midland, the average selling price in June was around $350,000. For renters, the average price for a one bedroom apartment in Midland is near $1,400/month.
But the market wasn't always like this.
"Historically, the attraction for employees to come to Midland years ago was our housing prices," says Bill Lanier, a real estate agent in Midland."They could buy a house for half the price and live like a king on the same salary. Well, it's turned around now."
Lanier says the market is aggressive — buyers see fewer homes and have to make decisions quickly, often within a day. But as a native Midlander, the agent thinks the city is a great place to settle down, despite the pressures families face when it comes to buying a home.
For the Nelsons, however, they're not so sure they want to put down roots here.
"As far as the people that have lived in Midland forever I think it's kind of unfair to them — people like us," says Maggie.
She's aware of the impacts transient families like hers pose to Midland's culture. They see the oil town as a temporary stay, instead of a place to settle. 
Today, Midland is struggling with keeping teachers and physicians around. As the population has continued to grow, there simply aren't enough personnel to fill the positions that make a town livable.  
"I feel that there are people who are from here and there are people who are not from here who all are striving for that same thing," says Maggie Nelson. "They want Midland to have that community, like those parks the recreation, the arts, the education — they want all those things too."
But for now, the Nelsons feel like their current quality of life isn't good enough to keep them around. This reticence is bad news for Midland stakeholders who worry about the city becoming a revolving door for families to temporarily cash in. So, the Midland Development Corporation, or the MDC, is stepping in. Sara Harris works for the organization.
"Without the supports like child care and education, Midland is in Danger of becoming a more transient community when we want to become a place where people can live, raise their family and get an education."
The MDC and the Nelsons share many of the same concerns. That's why the MDC is working in to fill the gaps that prevent people from staying. They're pumping the local sales tax revenue into health care, education and infrastructure projects. Some see this type of development — in the boom-bust nature of the oil and gas industry — as risky, but Harris believes otherwise.   
"Most of the oil industry executives in Midland indicated they see more stability in the market," says Harris.
People believe this boom might have some staying power. Companies are turning a profit — even at lower oil prices, thanks to hydraulic fracturing technology.  If the longterm indications turn out to be true, it's good news for Midland. If they actually have a stable economy, they could improve the community for residents, and families like the Nelsons might want to stick around.
"We don't want to be transient," says Maggie. "We don't want to put an expiration date on the town, cause like I said, the people are very kind, we like them a lot."
The Nelsons aren't 100 percent sure about leaving. So there's still some time, maybe  Midland will convince them to stay. 
A Report Finds High Rates Of Natural Gas Flaring In The Oil Patch. Environmentalist Are Concerned.
"In 2012-2017, oil companies in Texas might have flared twice as much gas as they wound up reporting to the state."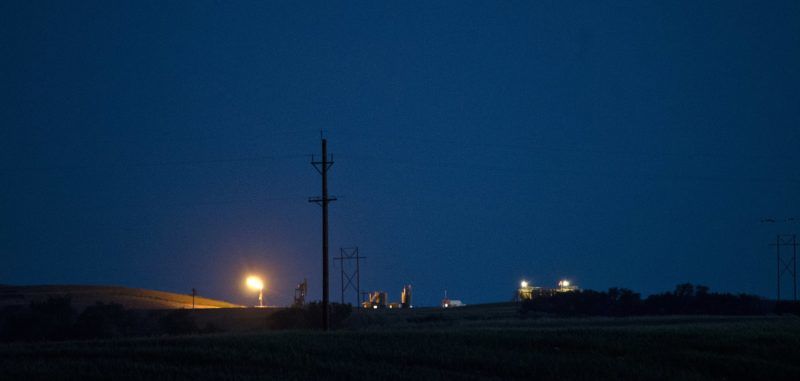 Originally published on October 30, 2018
By Alexandra Hart
If you have driven along a highway in Texas' oil country, you've probably seen flares, burning off extra natural gas at oil fields. Authorities are supposed to keep tabs on flaring. since the practice does have an impact on the environment, and on policy options, like promoting alternatives to oil.
But how much do we really know about the scale of flaring in Texas? A new report raises questions about whether shale producers are underreporting gas flaring, says Travis Bubenik, who reports on energy and the environment for Texas Standard partner, Houston Public Media.
"There are not enough pipeline on the ground in west Texas," Bubenik says. "When drillers are out on the ground, they get a lot of associated gas – natural gas that comes with it – and it's basically a byproduct, it's not really worth anything... they don't have the infrastructure to move it all because the area is booming so much, so they wind up burning it off into the air."
So flaring – generally speaking – is increasing. But why?
"Environmentally speaking it's not great, it's a waste of product, but it's a better approach than just releasing it into the air, which is known as venting, that's a lot more dangerous to the atmosphere," Bubenik says.
This report, released by S&P Global, looked at real-time satellite data "and they found that from 2012-2017, oil companies in Texas might have flared twice as much gas as they wound up reporting to the state," says Bubenik.
"S&P asserts that there's this multilayered reporting system where oil and gas companies report to state regulators, who then report to the Federal Energy Information Administration and they say in that chain of reporting some of these numbers might be getting lost or skewed too low and they know this could be happening intentionally or not, but it looks like it's happening," he says.
Oil companies might have an interest in underreporting the number of sites where there are flares.
"If flaring got too high, the Railroad Commission might eventually say 'our patience has run out, you have to shut down these wells.' And there probably is some of that going on, but across the landscape, this seeming underreporting, if it's intentional, would be designed to keep the oil flowing," Bubenik says.
Bubenik says it's unlikely the Railroad Commission, which regulates the energy industry, will examine the issue.
This flaring could be unintentional too, but it has raised concerns from environmental groups.
"There are thing that happen in the oil field that are accidents," Bubenik says.
"There are faulty flares… flares that are out there that are supposed to be burning gas but just like your oven at home, the pilot light went out, sometimes the flares go out and it can be a while before somebody goes down the dirt road and relight it," he says.
Written by Alvaro Céspedes.
The Eyes Of Texas Are On Falling Oil Prices, And Struggling Energy Sector Stocks
The continuing downward trend may affect local economies from Houston to the West Texas oil fields.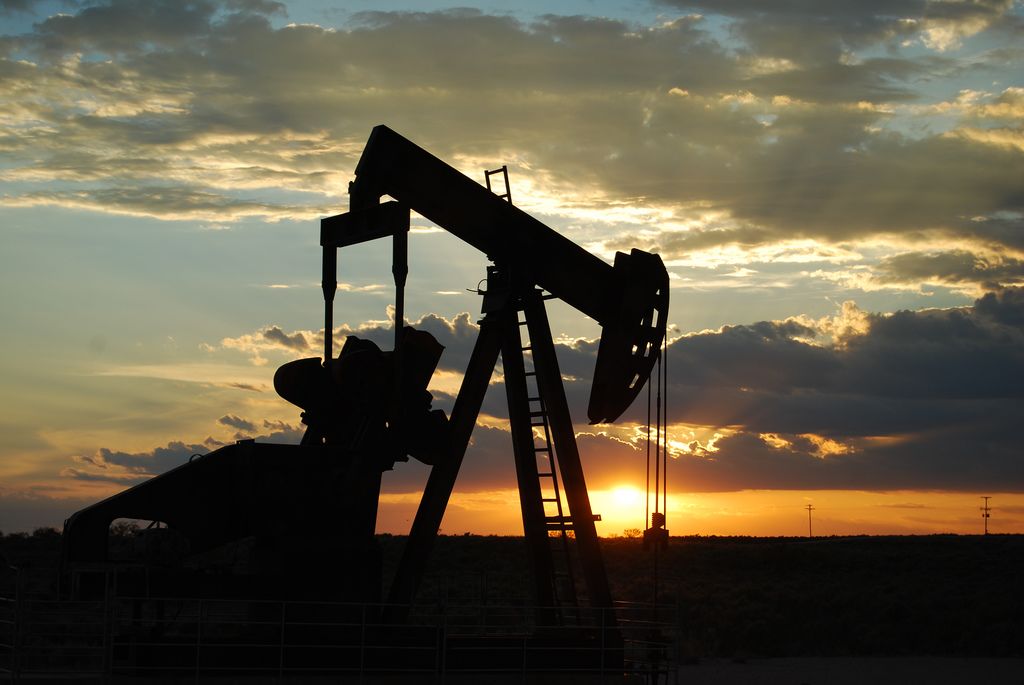 Originally Published on November 21, 2018
By Jill Ament
Many Texans may be paying attention to the stock market right now, as energy companies continue to lead a downward charge. In fact, the energy sector worldwide lost about $1 trillion in value during a 40-day period that began in early October, reports the Houston Chronicle. This means some energy companies may have a difficult time borrowing money, and hiring and retaining employees. For tens of thousands of Texans from Houston to West Texas, this impacts job security, retirement plans and confidence for buying homes, cars and holiday gifts.
James Osborne, energy reporter in the Houston Chronicle's Washington bureau, says the market decline is simply due to plummeting oil prices.
"Production around the world has been pretty high lately," Osborne says. "There's a lot of expectation with Iran sanctions going back into place that oil would come off the market and it seems in some countries, producers were anticipating that and getting ready for it, but that hasn't really happened. The Trump administration handed out a number of waivers to different countries so they could continue to import Iranian crude. There's just a lot of oil on the market right now."
Oil and gas companies have started to pump more oil out of the ground to maintain profits as supply grows and prices drop.
"That's been the pattern again and again," Osborne says. "When they get in these sort of situations they tend to get as much oil out of the ground as they can as long as they can. They've sort of been on shaky financial ground for a while, spending far more money than they've been taking in. They have been reigned in a bit by Wall Street lately. There was some concern that they were sort of overspending and could get themselves into a bubble situation."
The Organization of Petroleum Exporting Countries, or OPEC,  will meet in Vienna at the beginning of December and has signaled there will be a production cut. However, there's a fear among investors that the downward trend of the energy sector may not be a short term issue.
"There's just so much more competition in the energy sector than there used to be," Osborne says. "Renewable energy is coming on huge. Cars are getting more efficient. There's just a lot of long term downward drags on the oil sector that a lot of people around the Texas oil industry are taking note of and are certainly concerned about. I think it's just a matter of when these things begin to materialize, but for right now it's certainly a tough time for the industry with the prices down where they were."
By Brooke Vincent.
Oil Companies Inject $100 Million To Bolster Crumbling Permian Basin Infrastructure
An influx of people as a result of the booming energy industry in the area has strained roads, and services like health care and education.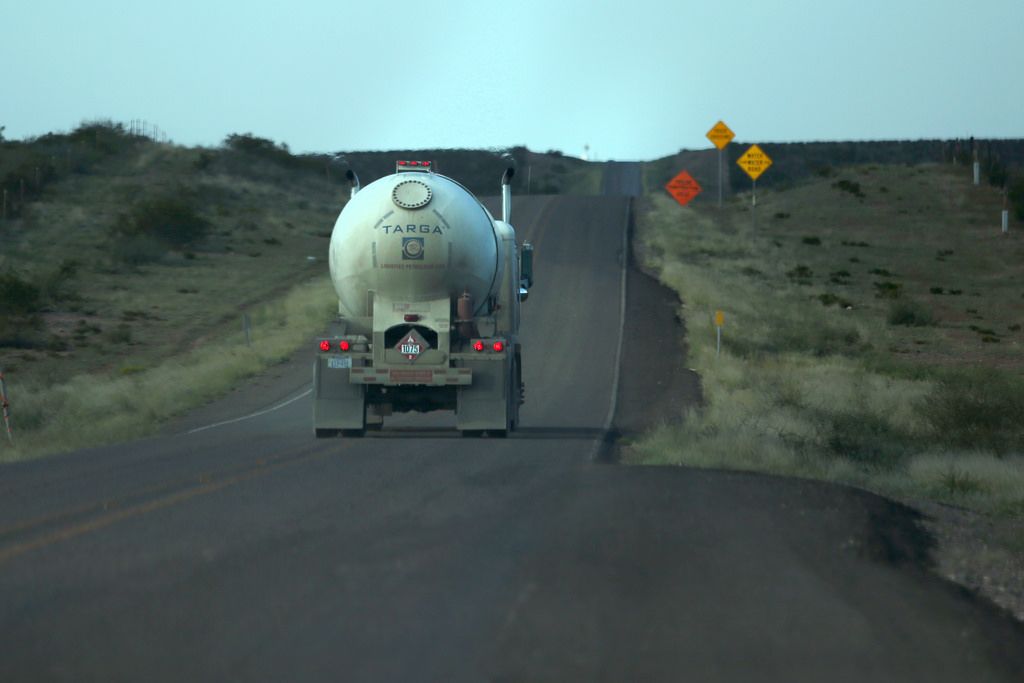 Originally published on November 28, 2018
By Laura Rice
With communities bowing under the stress of school overcrowding, soaring traffic fatalities, drug abuse and strains on the power grid, more than a dozen top U.S. energy companies have pledged $100 million toward easing the stresses caused by the natural gas boom in the Permian Basin area of West Texas.
Bobby Burns, president and CEO of the Midland Chamber of Commerce, says the improvements that could come from the money would serve the interests of residents and energy companies alike. 
"They see the ability to make money, but they need people," Burns says. "To get more people to move out here, you need more schools, you need more roads, you need more infrastructure and you need more hospitals. They know the impact is more than [the government] can handle at the speed that they need."
With so many things putting stress on Permian Basin cities like Midland, the next issue for the energy companies is to decide what projects to prioritize, Burns says.
"Midland, Texas has the chance to be the Abu Dhabi of West Texas, or of the United States," Burns says. "There's this amazing oil field out here and amazing dollars are going to flow, but how do we create a city that people want to live in and come to? That's the challenge – we've got to create a different city where a different generation wants to make this their home."
The population of Midland does not decrease along with downturns in the energy sector; schools stay full all the time.
"Quite frankly we could lose people right now – it would be nice to, at some level, because it would take some pressure off the roads and the schools and everything else," Burns says. "Midland could use the breather to get ready for the future because no matter what, these oil companies are getting ready for a growth number that's pretty remarkable, and Midland will be right in the middle of it, as will the Permian Basin."
A group has been hired to strategize how to best use the money, but there is not yet a timeline for when the money will be divvied out.
"As you look at Midland and Odessa and the entire Permian Basin, Midland doesn't just get the $100 million," Burns says. "There are other cities out here that should and could, and deserve the help. I don't want to say that the $100 million is not enough but I will tell you $100 million is not enough – [it's] just getting started."
Written by Brooke Vincent.
In the Permian Basin, An Increase In Traffic Accidents Is Taking A Toll On EMTs
"These aren't fender benders, these are violent violent crashes. I mean it looks like you've stomped on a tin can."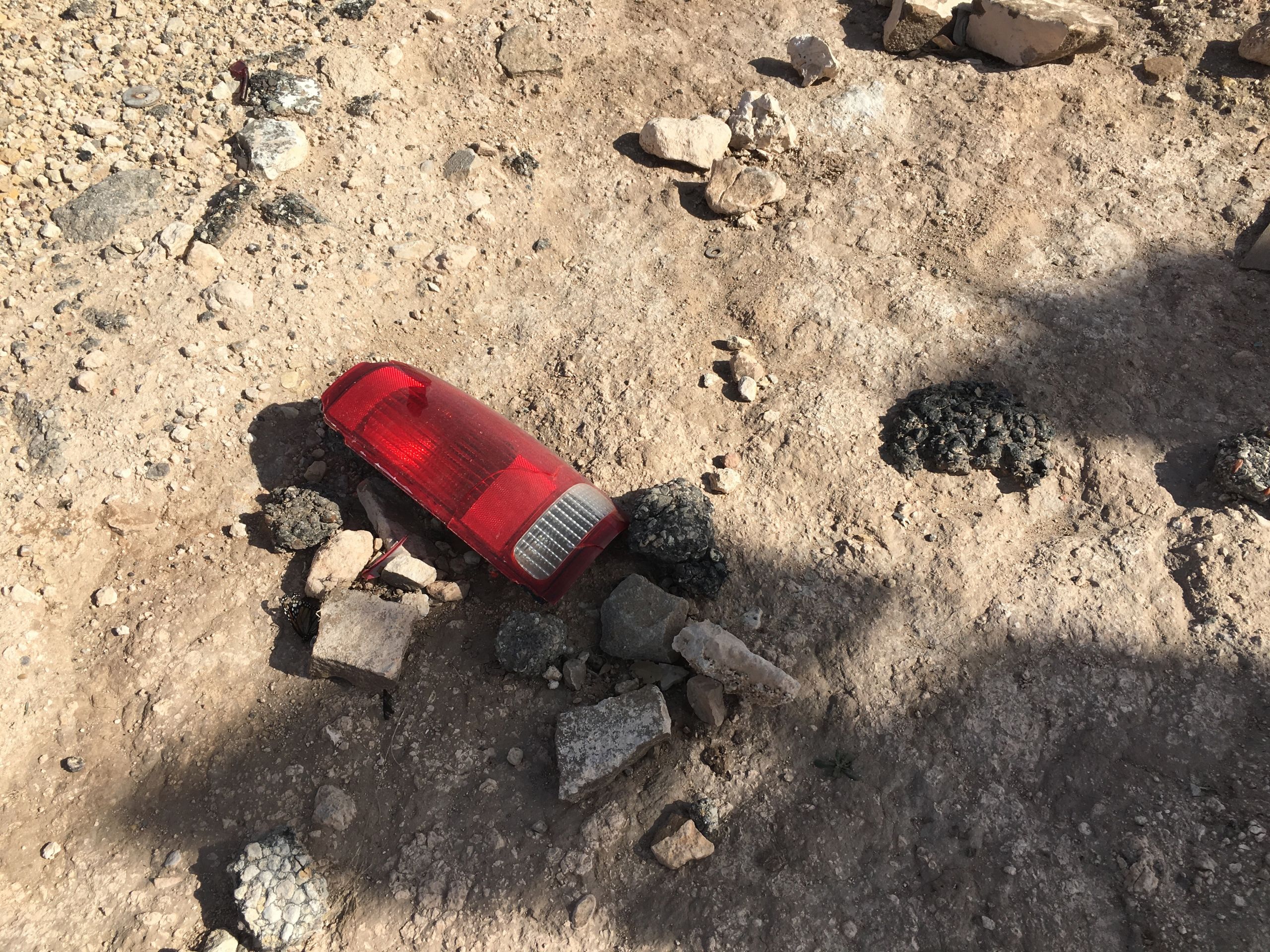 Originally published on December 10, 2018
By Mitch Borden, Marfa Public Radio
Driving in the Permian Basin can be dangerous. Roads are packed, huge commercial trucks barrel down the highways, drivers can be careless. The rate of fatal car crashes in the region is rising steeply.
This increase can be difficult and personal for first responders who see these wrecks and take care of the injured.
Carol Jost opens the door to the Volunteer EMS garage in Garden City and steps into the cool building. She quickly points out two ambulances. "They're always ready to go whenever we have a call."
Jost is the Emergency Services Administrator for Glasscock County and manages its 18 volunteer EMTs. It's clear from the layer of dirt on the ambulances' back doors that they've been busy driving along dusty roads. On one, a hand-drawn message has been left on a window: "Wash me", which makes Jost chuckle.
Glasscock County is about a half-hour drive from Midland. Not many people live there, but each day the population swells with transient workers. And because of fracking operations, commercial traffic has been non-stop. Jost says this is causing her team to respond to a lot of car crashes.
"These aren't fender benders, these are violent violent crashes," Jost says. "I mean it looks like you've stomped on a tin can."
For a long time, 911 calls for car wrecks and traumatic accidents were few and far between in Glasscock County. Volunteer EMTs had an easier time balancing their personal life with responding to emergencies. But the calls have more than doubled. You can see the evidence —broken tail lights, pieces of fiberglass and plastic gloves left by EMTs—strewn all over the side of the roads in certain places.
A lot of the accidents Jost and her team respond to happen in one place — the intersection of Highways 137 and 158. Thirty percent of all Glasscock County accidents happen here. The speed limit is high, it's easy to miss signs warning drivers to slow down, and these days, the roads are often backed up. It's a dangerous mix that happens all over the Permian Basin.
"I was coming home from work and I was going about 75. I had cruise control going, and the truck in front of me just hits the brakes."
Christian Olivares lives in Midland and described a close call he had just last month.
"All the traffic was backed up," he recalls. "I hit my brakes and my car skidded and was about two inches away from that truck. And the truck behind was literally a hair away from me."
Olivares caught a break that night. But he wasn't so lucky a few weeks before when a driver rammed into him at a stop sign and totaled his car.
Crashes like these have jumped at an alarming rate, says James Beauchamp. He's the president of the Midland-Odessa Transportation Alliance, a group that works to improve infrastructure in the Permian Basin. They found that in 2017, there were almost 9,800 crashes, which resulted in 173 deaths. That's about a 63 percent increase in the number of people who died in 2016.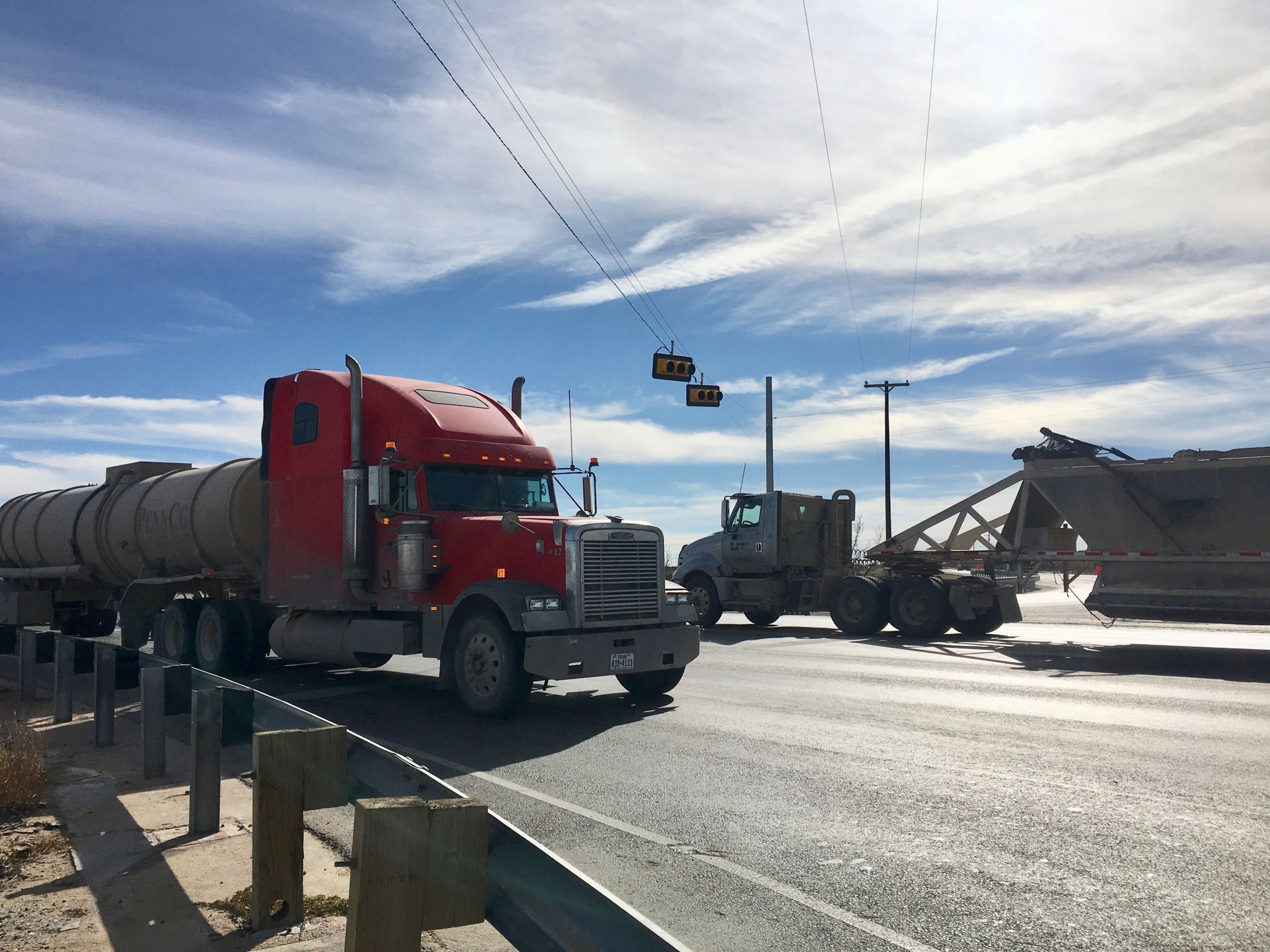 Beaucahmp says this increase can be traced back to the increase in oil production in the region. According to him, "A lot of what is driving that overwhelming number of crashes and fatalities is the commercial vehicle aspect of it, and that goes directly back in the increased activity you're seeing."
Carol Jost, the Glasscock County emergency services administrator, admits the costs of these wrecks are starting to pile up. The EMS department has to buy more medical supplies. The ambulances are burning more gas, they need more maintenance, and —maybe the biggest stress of all— she says there's "the strain on the volunteers. They're getting tired."
Investing In Permian Basin Roads Could Have Big Returns For Texas
The Midland-Odessa Transportation Alliance, or MOTRAN, says Texas could be losing $1 billion in taxes due to the region's failing infrastructure.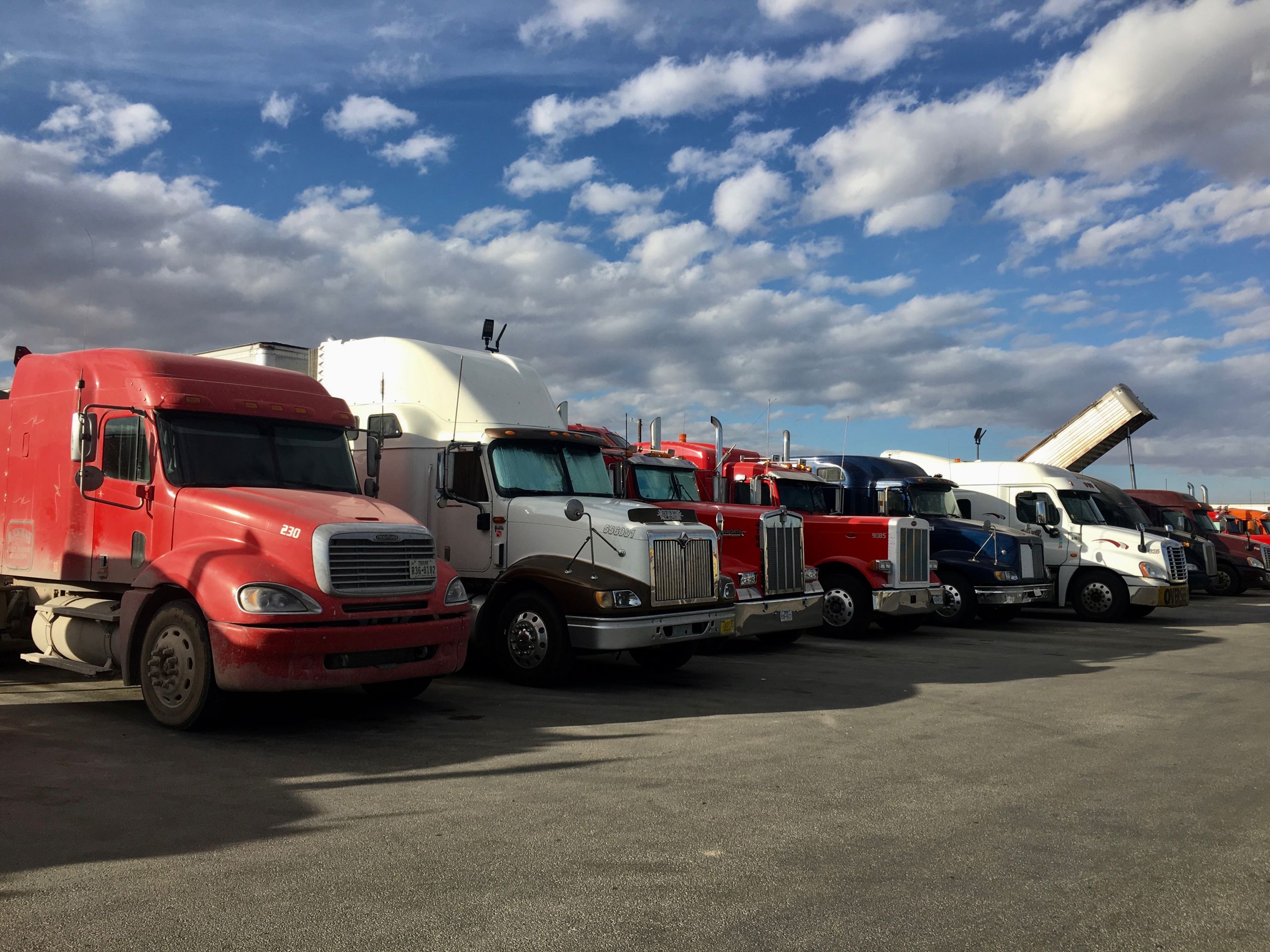 Originally published on December 19, 2018
By Mitch Borden, Marfa Public Radio
Outside of a Midland truck stop, Charles Goff is on his way back to his semi to enjoy a few more hours of rest before he gets back on the road. He says he can really get comfortable in his rig.
"I get to sleep in something that's like a one bedroom apartment.  I got my own refrigerator, TV, microwave, skillet. I mean it's just like home. Without the wife though."
For the last 18 years, Goff's been driving all over the region as a commercial trucker. He loves it, but he says he wouldn't want his family driving around here.
"No, I got a 21-year-old who wants to do this and I won't let him. You see all these trucks up here. You look at I-20, its a cluster. You go out to like Kermit. It's dangerous."
The backed up roads, the poor infrastructure — Goff is pretty used to these difficulties. He sees them every day while he's hauling frac sand around the Permian Basin.
"It's just a 24/7 traffic congestion up here, that's all it is. It's a town that never sleeps," says Goff.
These problems aren't just affecting drivers like Goff, they're also affecting the area's bottom line, says James Beauchamp.
"That lack of infrastructure out here has caused an enormous problem in the value of West Texas crude."
Beauchamp is with the Midland-Odessa Transportation Alliance, or MOTRAN.  The non-profit estimates Texas is currently losing around a billion dollars in taxes partly because of the region's infrastructure problems.
He says, "A lot of the things we can do today are pretty simple. It's just a matter of getting the state to make that investment out here."
According to Beauchamp, West Texas crude lags behind other oil because it's hard to get to. If there were infrastructure upgrades that improved the flow of traffic, like expanding highways and installing traffic lights, the price per barrel could go up. That would make the taxes collected from oil and gas rise as well.
State Rep. Brooks Landgraf is one of the few people who represent the Permian Basin in the Texas House of Representatives. He says, "If we're not meeting the basic infrastructure needs of the energy producing regions of our state. Then that is going to have negative economic implications."
He's working on a bill for the upcoming legislative session that would divert some of the oil and gas taxes that'd normally go towards the state's "rainy day fund" and put that money towards roads in oil-producing regions.
According to Rep. Landgraf, "Other parts of the state seem to view the Permian Basin and the Eagle Ford Shale and certain parts of East Texas as, extraction colonies that are to be exploited for our natural resources but not provided with the same infrastructure or state services that other parts of the state enjoy."
If oil and gas taxes were redirected, Landgraf estimates his bill could generate hundreds of millions of dollars annually for road maintenance and improvements. He says infrastructure investment wouldn't just be beneficial for the folks who live in the Permian Basin — it would be good for pocketbooks across the state.
"Look, if you choke off oil and gas production in the Permian Basin then your downstream jobs, the executive positions for oil and gas companies that in Houston, are going to dry up."
Landgraf has an uphill battle to convince legislators his plan is a good idea because only a small fraction of the Texas population lives in the region.
Until an infrastructure solution is set in stone, drivers in the Permian Basin will just have to make due.
Ever Heard Of Severance Tax? It's How Texas Makes Money Off Oil And Gas Drilling.
The tax rate hasn't changed since the 1950s, but some say it's time for an update.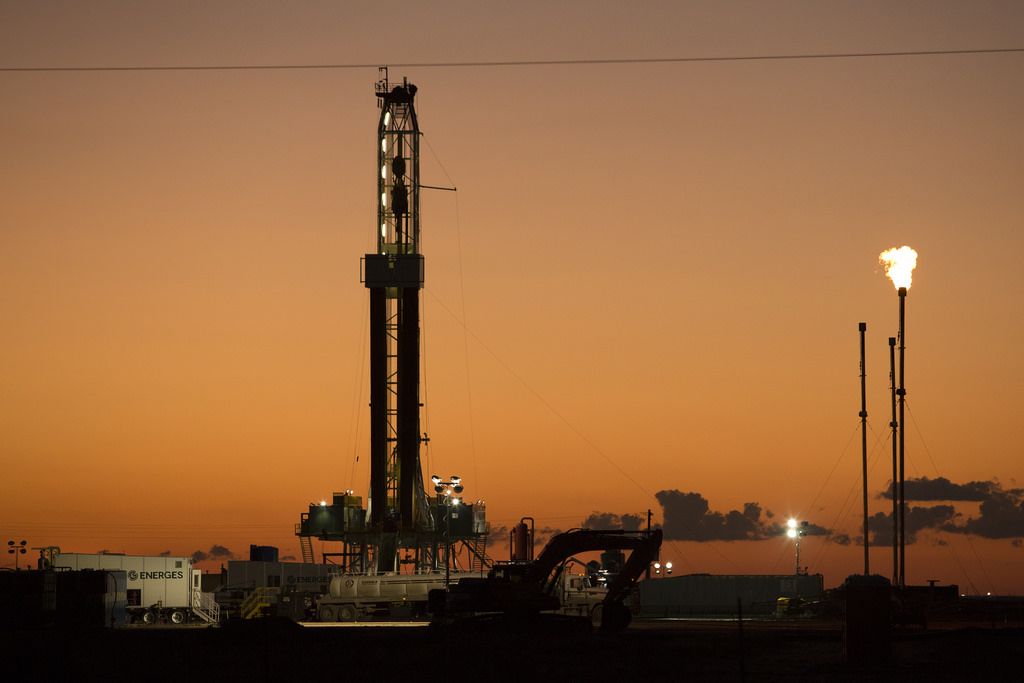 Originally published on December 28, 2018
By Morgan Kuehler
Taxes. They tend be something many of us avoid thinking about until a certain time of the year. But they are, of course, an everyday reality when you buy something at the store or when you fill up your gas tank.
But Texas taxes on oil and gas aren't just limited to the local filling station. They're also applied to the pumping of gas from out of the ground. Every last bit of oil and gas that comes out of Texas Land helps put money into the state budget. And because of the recent drilling boom, tax revenue from oil and gas is up 50 percent from last year.
The latest estimates from the Texas comptroller's office show the state expects to collect a combined $6.7 billion from oil and gas industry taxes for the upcoming 2018-19 budget cycle. This money comes from something called severance tax.
Roman McAllen is the historic preservation officer in Denton County.
"The severance tax is a tax set by our Texas Legislature, and it has to do with the extraction of non-renewable resources from Texas land," McAllen says.
McAllen talked a lot about the severance tax when he was a candidate running for Texas Railroad Commissioner – one of the heads of the state agency that oversees oil and gas production.
"I've talked to really large crowds, like 300 people, who are interested in politics, and I'll ask how many people know what the severance tax is or have heard of it, and if a handful of people put their hand up that's a big number," McAllen says.
If you're not among those in the know, here's the gist: A severance tax is imposed on oil and gas companies to compensate the state for the loss, or "severance," of non-renewable resources like fossil fuels. The state determines exactly how oil and gas companies are taxed. 
"Currently, for oil, the rate is 4.6 percent of the value, and for natural gas, it's 7.5 percent. ... For oil, that rate has been around since 1951 or so," says Chris Bryan, director of communication for the office of the comptroller, which collects the tax.
And though 1951 was a long time ago, some lawmakers say those rates are still suitable.
"It seems to be, quite frankly, a fair tax rate. We're not putting anybody out of business or production. [The industry] continues to grow in the Permian Basin and throughout Texas," says Odessa Republican state Rep. Brooks Landgraff. "I believe that the first time that we, as a state, imposed a severance tax was back in 1907. And so, it's very commonplace – something that the industry knows it's going to face. And of course, it's a revenue source that we as a state have relied upon since that time."
The state collects that revenue and splits it between the state rainy day fund, the state highway fund and the Foundation School Program. Those allocations also haven't changed since 1951, and McAllen says that's a problem.
"If that tax is supposed to reflect the true cost, the environmental cost to our state or other things, how can it even be close to accurate? We didn't even know about climate change in 1951," McAllen says.
McAllen lost his race for Texas Railroad Commissioner to incumbent Christi Craddick, who didn't make the severance tax part of her campaign.
Landgraff, on the other hand, is planning on using his position in the Texas House to make changes to how the state uses severance tax funds. Specifically, Landgraff says more money needs to go toward maintaining roads and highways.
"I think that if you're going to continue oil and gas production in places like the Permian Basin and the Eagle Ford Shale, then we need to make sure that infrastructure needs are being met in those areas," Landgraff says.
Texas is now producing and exporting more oil than ever, which means the state is bringing in more tax revenue than ever. The comptroller's office says the the rainy day fund is on track to reach about $12 billion by the end of fiscal year 2019.
"Considering how robust our rainy day fund is … I think we as a state could afford to dedicate a portion of that oil and gas severance tax to meet the needs in the regions of the state that are generating the oil," Landgraff says.
After nearly more than half a century, it's possible 2019 will be the year oil production taxes get an upgrade.
Activists And Researchers Are Working To Keep Tabs On Oil And Gas Emissions Near Balmorhea
"Fixing this problem is easy. You do what the prior administration had a suggested. Mainly you look for where the biggest leaks are and you fix those."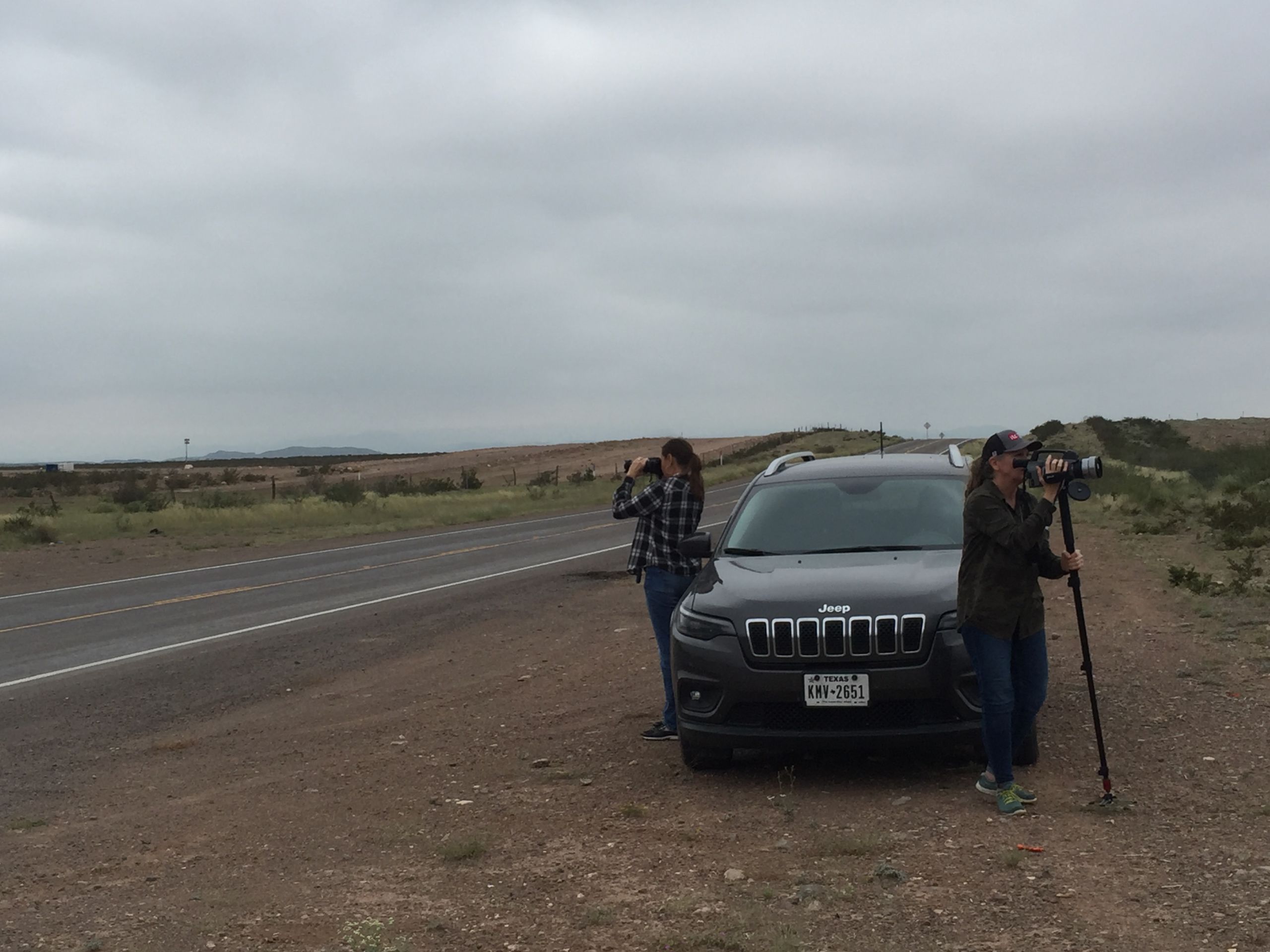 Originally published on January 15, 2019
By Mitch Borden, Marfa Public Radio
Funky smelling fumes, dimmer skies, and increased health concerns have all been reported by residents in the Southwest corner of the Permian Basin as the oil and gas industry expands. Growth has been happening north of the Davis Mountains over the last two years.  
Concerns about greenhouse gasses and toxic emissions have spurred some citizens —like Sharon Wilson— to try to keep oil companies accountable themselves, one rig at a time.
During a recent drive along roads in Reeves County near Balmorhea, Wilson is hunting for oil and gas emissions.
Specifically, hydrocarbons like methane, benzene, and other vapors escaping from oil and gas facilities. Today she's checking out sites owned by the Houston-based Apache Corporation.
As she gets out of her car, Wilson points out the odor.
"Can you smell it? It's definitely pretty stinky."
Wilson is a part of Earthworks, an environmental advocacy group that says oil and gas operations are threatening the health of people who live in the South Permian Basin and the environment. Other than her nose, she uses a special infrared camera to find chemicals the human eye can't see.
At a glance, a pipe at a natural gas site may not seem like much until Wilson points her camera at it. She says, "I'll show you in the camera. All of this equipment along here, you're going to see a lot of air pollution. It's pretty alarming."
Wilson's camera can reveal plumes of smoke pouring into the air, though the camera can't tell the difference between say, steam or toxic chemicals. But, Wilson is pretty sure what she's seeing is pollution.
"If you're seeing something and it's coming from the equipment on an oil and gas site then the gases are most likely going to be hydrocarbons. No matter what the industry tries to tell us. It certainly not cotton candy."
There is a certain amount of emissions oil and gas sites are allowed to legally discharge. Apache Corporation maintains they stay within emission standards. But, in general, Wilson and Earthworks say operators in Texas aren't being monitored enough.
"Nobody's measuring it. The state does not go out and measure it. The state is not out here doing air testing."
Professor Gunnar Schade of Texas A&M University agrees.
According to him, "I often get asked why are we not finding these [leaks], supposedly there are so many leaks out there. Well, the dominant leaks occur where you're not looking."
Schade has a doctorate in natural sciences and his research focuses on the transfer of gases to the atmosphere. He says regulators aren't keeping up with the Texas oil industry when it comes to hydrocarbon leaks. The Texas Commision on Environmental Quality, or TCEQ, disagrees. It's the department in charge of monitoring emissions discharged by completed wells and refineries.  
In a statement, TCEQ told Marfa Public Radio it does routine inspections of oil and gas sites and has air quality monitoring stations around the state. In the Permian Basin, the commission has four stations to assess the general air quality of the region, which spans thousands of miles.
TCEQ also allows companies to do their own assessments. If a company performing a self-evaluation reports a violation it is immune from any penalties. To Schade, these safeguards aren't doing the job. He says there's evidence that too many greenhouse gases and toxins are escaping from facilities.
Schade also thinks this is a situation that has a simple solution. He says, "Fixing this problem is easy. You do what the prior administration had a suggested. Mainly you look for where the biggest leaks are and you fix those."
For this to work, regulators, like TCEQ, would need to go to every site and do inspections, but Schade says, "Right now, that's not being done." According to him, if people want TCEQ to respond to oil and gas sites they're worried about they need to make their voices heard.
"There's not going to be much response from the regulatory side unless people speak up and say this pad over here I think has a lot of emissions because I wake up with a bloody nose every morning or I smell it all the time."
In an email, a TCEQ official wrote if a leak is an "imminent threat to health or to the environment" they'll respond within 24 hours or less.
Before late 2016 there wasn't really any oil development around Balmorhea. It was known for its pristine natural springs and clear skies. Now, some individuals are claiming emissions are affecting their health and the region's skies are getting murkier as oil development ramps up.
Alfredo Gutierrez is a truck driver from Chicago who hauls freight all over the country. While driving through the Southern Permian Basin for the first time he says he spotted something.
"When the sun was going down I saw like the smoke on the air and it was like a clear sky, but this was a different kind of smoke."
Gutierrez is describing the dense haze that sometimes hangs low in the sky around Balmorhea, which he wasn't expecting to see.
According to him, "You see this in like a city like Dallas [or] Houston, but not in here with nothing around. This is probably like a really contaminated place."
There is no way to tell where the haze is coming from because there is little to no data on the air quality in the Southern Permian Basin and Big Bend. That's about to change though. Later this month, Dr. Gunnar Schade will begin a year-long project, tracking emissions around Reeves County.  
This study should establish a baseline record of air quality for future research and help form a better picture of how the oil and gas industry is affecting the South Permian Basin.
Diana Nguyen contributed to this report.
Central Texas Pipeline Reignites Fight Over Land Rights
Under Texas law, the pipeline builder, Kinder Morgan, can use eminent domain to take land for the project.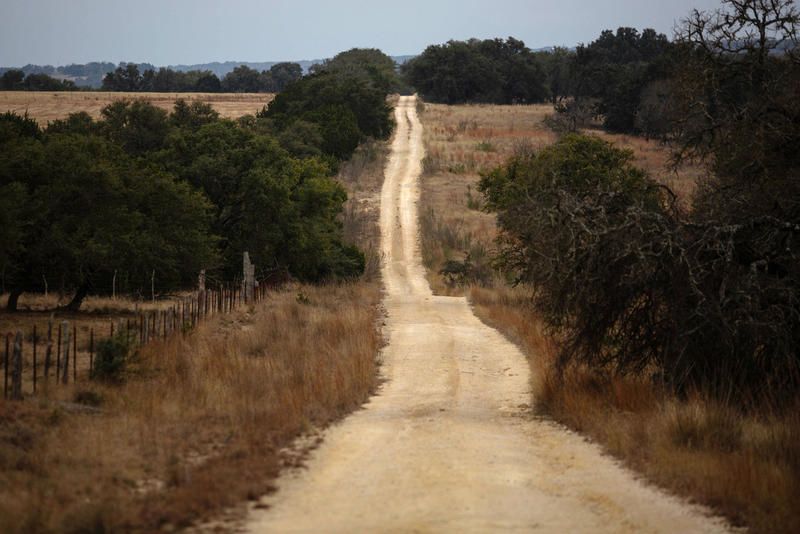 Originally published on January 29, 2019
By Mose Buchele, KUT Austin
A fight over a pipeline is never only about the pipeline. It's about the environment, property rights, public safety and a community's sense of itself. Just such a fight is now brewing in the Texas Hill Country, where company Kinder Morgan plans to lay a part of its 430-mile natural gas Permian Highway Pipeline.
The Houston-based company says the time is right for the project. An unprecedented drilling boom in West Texas means there's more oil and gas coming out of the ground than companies can ship to market. The pipeline would carry natural gas to the Gulf Coast, where it can be sold domestically or exported.
The quickest way there is through the Hill Country, including places like the Hershey Ranch in Gillespie County.
The ranch, a 1,500-acre spread of rolling hills and weathered terraced fields, is dotted with trees, ponds and structures dating from the 1800s. If the pipeline is built underneath it, Kinder Morgan would also control about a 100-foot-wide swath of land above the pipeline to maintain it.
"It will go right through the heart of the ranch," says owner Andy Sansom.
Sansom is a well-known conservationist, who once headed up the Texas Parks and Wildlife Department. He's especially upset about the pipeline because the Hershey Ranch is private conservation land, where no development is supposed to occur. But, he says, his neighbors with more traditional properties don't want the pipeline either.
"There are few parts of our state that are as iconic as the Hill Country," he says. "It's very clear that the people who live out here see this as an assault."
Eminent Domain
The idea that the Hill Country may be too "iconic" for this pipeline is something you can expect to hear more of as the project gets underway. Opponents have already raised concerns over the potential environmental, aesthetic and public health impacts. Kinder Morgan says it's willing to make small adjustments to the route to accommodate landowners. But the pipeline is coming.
"I had someone say the other day – 'Just move it 70 miles south and you'll have no problems,'" says Allen Fore, vice president of public affairs at Kinder Morgan. "Well, I assure you that someone owns property 70 miles south, and there are other concerns and issues that would present themselves on any significant reroute."
But pipeline opponents say they shouldn't have to take the company's word on that. They point out that in Texas there is no public process or oversight that happens before letters go out to property owners saying a pipeline's coming.
If a landowner doesn't want the pipeline, the company can use eminent domain to take the land anyway.
"One of the first questions we always get from a property owner is: 'How in the world can a private, for-profit pipeline company take my land?'" says Luke Ellis, a lawyer representing landowners, including Sansom, in their negotiations with Kinder Morgan.
He says all a company has to do to claim the right to take land is fill out a form and file it with the Railroad Commission of Texas, the state's strangely named oil and gas regulator
"You and I could form an LLC tomorrow and we could start to submit a T-4 permit to the Railroad Commission saying that our LLC wants to build a private, for-profit pipeline company," Ellis says. "There's virtually no oversight there."
That's something Texas has been grappling with in the courts and at the Capitol for decades. During the last several legislative sessions, lawmakers representing property owners have filed bills to overhaul the system, and the oil industry and others that use eminent domain have fought those efforts. In the end, nothing much changes.
"I just think that there's a huge coalition of … entities that take properties, that coalesce to lobby the Legislature in a way where they do not want to change the framework," Ellis says.
Emotions 'Stirred Up'
When these debates rise up, the industry usually points out that the use of eminent domain is pretty rare.
Fore says the company is working with landowners to make them happy, and part of that is arriving at agreeable compensation for the land. He says the last thing the company wants are unhappy landowners.
"Eminent domain is an absolute last resort and that's not just some talking point that we came up with; that's reality," he says. "Because an adversarial relationship with a landowner that you cannot reach agreement with is an adversarial relationship that is going to be with you for a very long time. And that's just not good."
But in some cases, an adversarial relationship is what happens.
At the Hershey Ranch, Sansom says he wants a change in state law to create more oversight over pipeline companies. And, he says, with a new legislative session getting started not far away in Austin, the time is right.
"I'm excited that it's got people stirred up out here," he says. "People in the Hill Country are not happy about this."
'How Screwed Are You' If You Don't Work In Oil In The Permian Basin? It Depends.
"If it's a bust, they're out of work. If it's a boom, they can't afford to live here."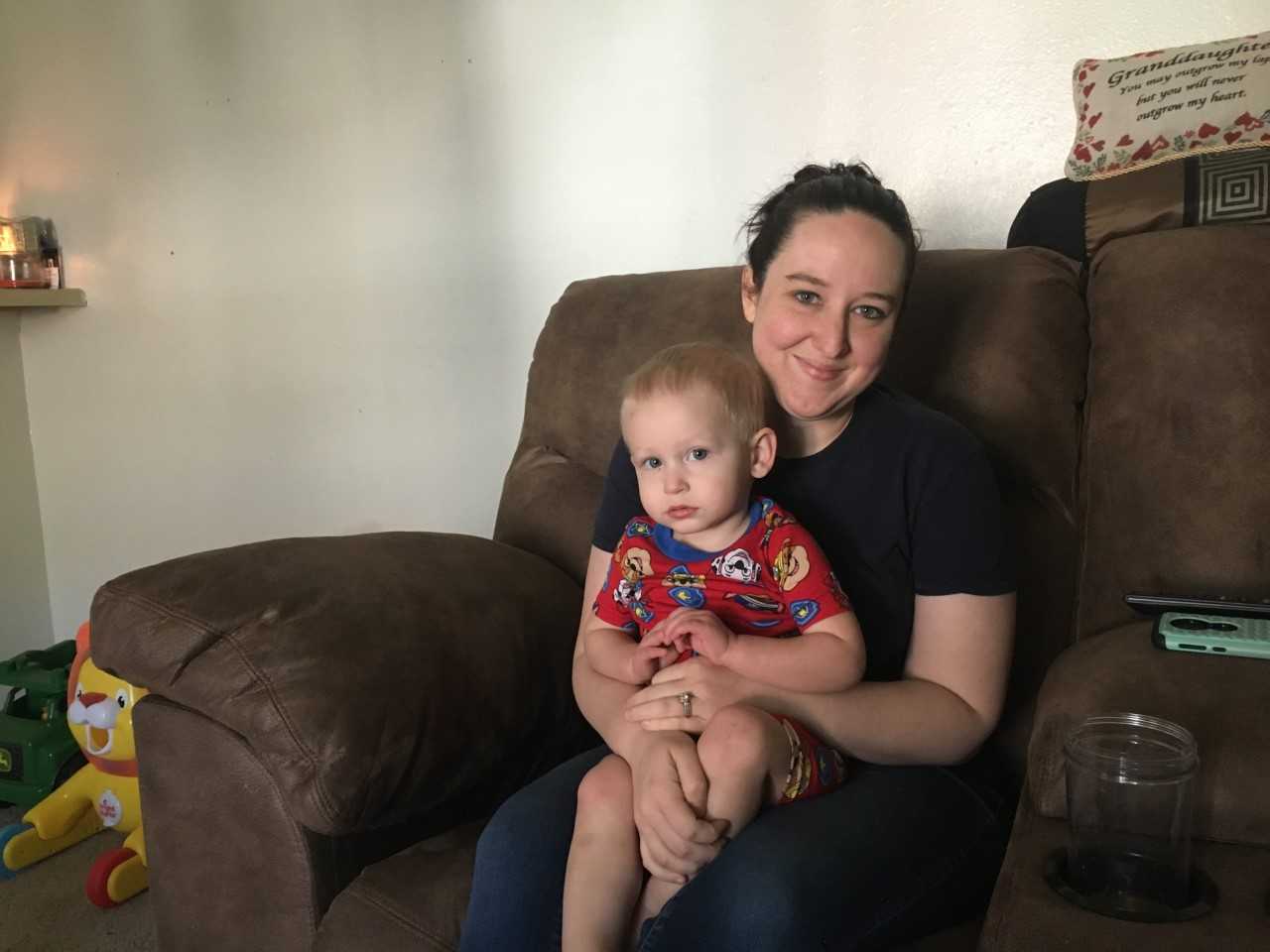 Originally published on February 1, 2019
By Mitch Borden, Marfa Public Radio
It doesn't take much to see that the Permian Basin's economy is doing pretty well right now. Just look at Midland and Odessa: the two cities' unemployment rate is around 2 percent, wages are high and property values are rising.
It won't be a surprise to anyone that the reason for this is oil, and if you're working in the industry, you may be doing pretty well. But one West Texas listener asked:
"I'm Hunter, from Odessa, Texas. If you don't work in the oil field in Odessa, how screwed are you?"
Instead of jumping right into this question, Marfa Public Radio's Mitch Borden asked around to see whether people agreed and the short answer: it depends.
After speaking with quite a few people, it turned out it's not just those who work outside of the oil field who are struggling to get by right now. The cost of living has gone up over the past few years to a point where it's hard for people in and out of the oil industry to keep up, especially when it comes to housing.
To say it's hard to find a nice, affordable place to live in the Permian Basin right now is an understatement. Just ask Ambr Burch.
Two dogs, a couple of cats, one fish, Burch, her son and her boyfriend all squeeze into a small apartment for $1,300 a month, which is about the average rent in Midland-Odessa.
"This is my one-bedroom," Burch says. "I actually use the dining room as the baby room."
Burch and her boyfriend are living paycheck to paycheck, and it's clear they think about money a lot. Taped to the back of their front door are lined pieces of paper tracking what bills need to be paid and how much the couple will make this month.
"This is the bedroom; you'll have to bear with me it's a little messy. It's tiny as well but we all manage to fit into the one bedroom best we can," Burch says.
Burch describes herself as a stay-at-home mom, but both she and her boyfriend work. She waits tables most days of the week and he works in the oil fields, but even with a combined income, it's only enough to get by.
"Bringing in $5,000 a month may sound like a lot, but when your bills are super high it goes by fast," Burch says.
When Burch first came to Midland a year ago she had no idea how hard it was going to be to make ends meet. Her best advice for anyone thinking about making the move: "Either find someone who's in the oil field or get into it yourself because that's really the only way you're going to make it."
Last year, things were tough for Burch and her family. Burch had to get help paying rent from a local nonprofit called Helping Hands of Midland. The group's executive director Mary Hardin says the organization spends $26,000 a week to help people who've fallen on hard times.
"If it's a bust, they're out of work. If it's a boom, they can't afford to live here," Hardin says.
After oil production started ramping back up in 2016, the demand for, and cost of, housing shot up along with it. Hardin says a lot of the financial aid the group gives out goes toward hotel rooms, rent assistance and mortgage payments.
But people are still moving to the area; there are plenty of jobs, and well-paying ones, too. Costs are just so high that those salaries don't necessarily keep pace. It's not just housing that's expensive; gas, groceries, taxes – everything's gone up.
Hardin regularly buys bus tickets back home for people who've just arrived to look for work.
"They roll in and they have a job in a day or two, but it's two or three weeks before their drug test are back or they can get a paycheck. By then they're so out of money it's not even funny," Hardin says.
By her estimates, it would take $50,000 for a household of four to just barely scrape by. That's nearly double the average income for a person in Midland and Odessa. Housing makes up the biggest chunk of that cost, but some people get lucky. Even the ones who don't work in the oil industry like Jacob Chadwick.
"Sounds like you found the needle in the haystack," I tell Chadwick.
"We really did," Chadwick says. "It's a nice two-bedroom. I couldn't tell you the square footage, but we actually have a fenced-in backyard and it has a fireplace, which is useless in West Texas, but we have it nonetheless."
Chadwick and his wife pay $1,000 per month for their apartment, which is way below market price. Chadwick says a comparable apartment in the area would probably go for $1,800.
Chadwick is a barista at a Barnes & Noble Starbucks. He really likes his job even though he only makes a few dollars above minimum wage.
"There's just something cathartic about making coffee for me. It's just soothing," Chadwick says.
The rest of his family's expenses are mostly covered by his wife, who teaches sixth grade. They can't really afford to pay higher rent. If it does go up, Chadwick says he's prepared to leave because he doesn't want to see his family's quality of life drop dramatically.
He also really doesn't want to work in the oil fields.
"I have a wife and a daughter. If I worked in the oil field I would never see my family, and that's not how I want to live," Chadwick says.
What Chadwick is crossing his fingers for is that things will cool off soon.
"Hopefully the oilfield busts," he says.
That's because he says, laughing, that rent will go down.
Two Years Later, What's Up With The Trans-Pecos Pipeline?
Low natural gas prices, and slow connections to the Mexican pipeline system have kept the pipeline well below capacity.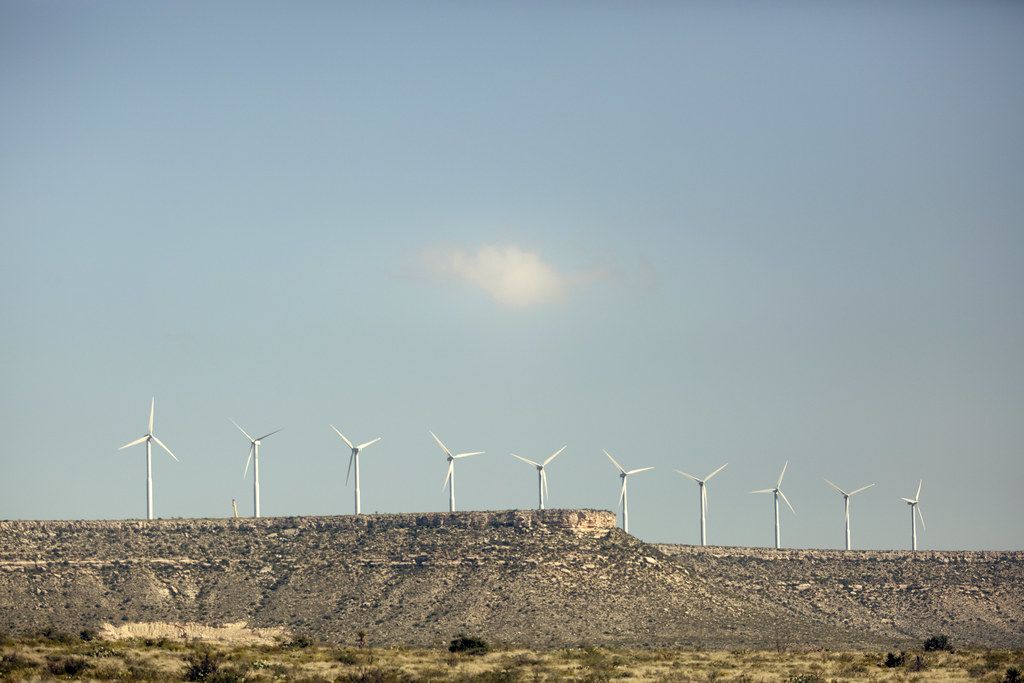 Originally published June 11, 2019
By Sally Beauvais, Marfa Public Radio
It's been over two years since the Trans-Pecos Pipeline went into service in remote West Texas, amid eminent domain lawsuits and backlash from industry opponents.
Because of market forces, the pipeline — which was built to export US natural gas to Mexico — has sat largely idle since then. Despite the slow start, environmental advocates say it's leading to more oil and gas development in previously untouched parts of the region. 
The 42-inch natural gas line runs beneath 148 miles of West Texas — from the heart of booming oil and gas country in the Permian Basin, down south through the remote wilderness of the Big Bend region.
It's the first pipeline of its kind in this part of the borderlands, known for sprawling ranches and dark skies.
Before it was officially tucked underground in March 2017, resistance to the project was coming to a head.
Local opponents and Native American organizers fighting to protect the area's natural resources chained themselves to fences and bulldozers, inspired by protesters battling the Dakota Access Pipeline over 1,000 miles north. Landowners went to court with the pipeline's parent company — Energy Transfer Partners — over private property disputes.
But they didn't stop the pipeline. And over two years later, it's still in the early stages of doing what it was built for — transporting natural gas from the booming Permian Basin of West Texas over the border to Mexico, where domestic production has been waning for over a decade.
"Over the past three to four years there's been a significant build-out in cross-border capacity, mainly from Texas to Mexico," John Hilfiker, an energy analyst with S&P Global Platts, told Marfa Public Radio.
By capacity, Hilfiker means pipelines. There's over a dozen of them like the Trans-Pecos at points along the southern border, positioned — eventually — to fuel Mexico's power grid. In fact, the country's state-owned utility, the Comisión Federal de Electricidad, sponsored the Trans-Pecos Pipeline with the aim of feeding Mexico's growing electric sector.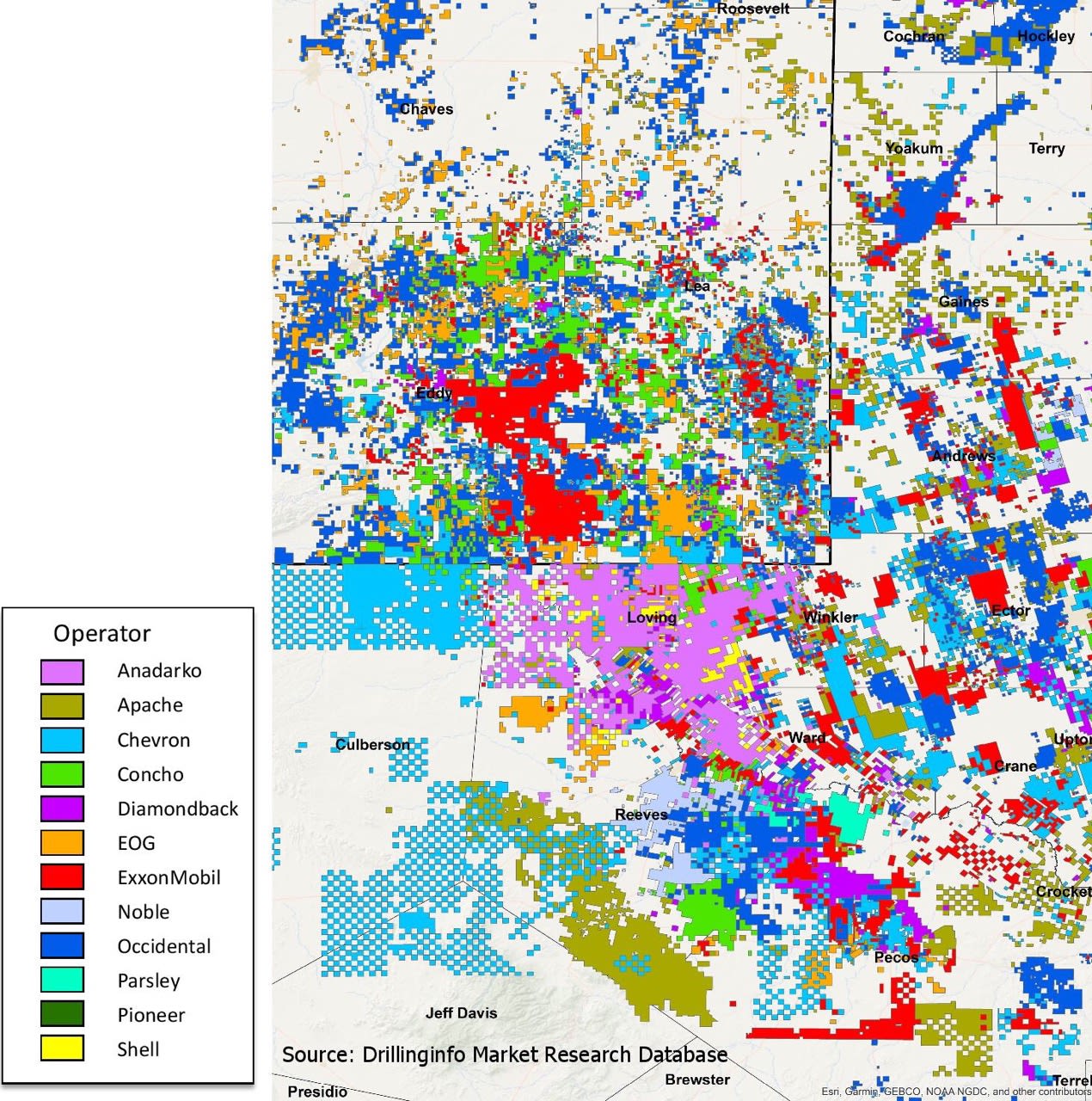 But construction on the Mexican systems that the pipeline will connect to is lagging behind.
That means for the time being, the Trans-Pecos line is moving far less gas than it was designed for. According to Hilfiker, it's currently carrying a low volume to a power plant in the state of Sinaloa, operating at approximately 7% of its capacity, year-to-date. 
Another hitch?
"The extremely low West Texas natural gas prices that we're seeing," Hilfiker says. 
The price of gas out of the Permian Basin's Waha Hub — a header system that many West Texas pipelines, including the Trans-Pecos, connect to — has recently been hovering in the negatives. That means drillers in the Permian Basin are essentially paying to have their gas taken away. 
"The majority of their revenue from drilling in West Texas is coming from oil," Hilfiker says. "So they're doing whatever they can to move their natural gas supply."
Gas is a byproduct of drilling for oil. And with limited options for storage or transport, US companies are struggling with an excess. 
That means if gas was flowing along the Trans-Pecos line at a higher rate right now, drillers probably wouldn't be making much money off of that, directly.
This frustrates Coyne Gibson. He's a member of the Big Bend Conservation Alliance — a local advocacy group that attempted to sue the Federal Energy Regulatory Commission over the way the agency classified and reviewed the pipeline. 
"It begs the question, 'Why so fast? Why so furious? Why not be more economically responsible as well as environmentally responsible?'" Gibson says.
Gibson is tracking oil and gas development as it progresses further south of areas that have traditionally been tapped during Permian Basin boom times. He says despite the sluggish natural gas market, the Trans-Pecos Pipeline is poised to become a crucial piece of a network for major companies drilling closer to the pristine Big Bend region than ever before.
Houston-based Apache Corporation -- the company behind a major 2016 oil discovery in southern Reeves County -- is one such example. While Apache recently scaled back much of its gas production, a new processing facility that's being developed by Apache's new midstream company, Altus, could help them bring their gas output back online. 
According to Gibson, Apache's facility build-out in the southern Delaware Basin makes it possible for the company to connect directly to the Trans-Pecos Pipeline, as well as the nearby Comanche Trail gas line, bypassing the sales and capacity constraints at the busy Waha Hub.
A spokesperson for Apache said the dry natural gas the company's producing in the region can be also be transported to market via the Roadrunner Pipeline.
Moving this particular byproduct, also known as "residue gas," is critical to companies drilling for more profitable reserves in the Permian Basin.
"One day you're driving down the highway and you've got your usual horizon. The next day you drive it and there's cranes, and the next, you drive it, and there's a gas processing plant," Gibson said. "And it's just one domino in a chain after another."
This kind of rapid development is happening already -- just north of the Davis Mountains that mark the informal edge of the Big Bend Region. 
Gibson says he thinks it's just a matter of time before more of it extends further south.